Kingsmen water polo splits double-header, beats Chapman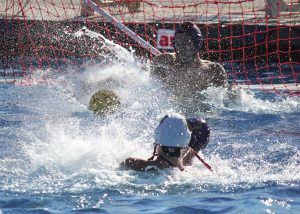 Returning home from a trip to the East Coast, the Kingsmen water polo team defeated Chapman in their Southern California Interscholastic Athletic Association opener, 11-10.
After putting up a 9-3 lead following the completion of the first two quarters, the Kingsmen had a difficult time handling the charge that Chapman led on during the second half.
"We are working on making sure we don't have any let downs and making sure we play the entire game without one," said senior Carter Baldwin.
"AJ Franklin, Shea Craig and Hunter Hamaker are some great additions to our team and are stepping up for us." Franklin, a freshman, and Baldwin each scored three goals in the opening half against Chapman.
The Kingsmen then played the Lancers from California Baptist University. The Kingsmen focused on putting together a collaborative team effort.
"We are all just trying to take in as much as we can from the upper class-men. Anything they can teach us so that we can help the team out is great to have on our side," said Franklin.
The CLU water polo team has had one of the toughest and most exciting beginnings to its season. They had the opportunity to fly out to the East Coast and play Ivy League teams including Harvard, Princeton and Brown.
The young Kingsmen team brought home a lot of experience and a better understanding of their new squad. They won one game with a dominating performance against Fordham, winning 17-8.
"The experience was great.  Playing against Division 1 teams really helped us find out what we need to work on and where our strengths are," said Baldwin.
So far the Kingsmen have had a challenging season playing teams that have more experience, bigger bodies in the water and older players with a lot more college experience. Not to mention the fact that they are facing Division 1 teams.
"It's a whole new mix with a lot of freshmen and a couple of transfers and I haven't ever really played with such a young team. We are all getting closer and closer to being on the same page, which is the biggest thing for us," said All-American Honoree goalkeeper Danny Mock. "Having everyone communicating on defense and firing on all cylinders at the same time, that will make us very tough to beat on any stage," he said.
The Kingsmen will get to test their learning experience this coming weekend, Sept. 22-23, at an invitational tournament held at UC Davis in Northern California. They will face off against two tough Division 1 teams and two SCIAC competitors, Claremont and Redlands.
"The freshmen this year were really just thrown into the fire from the beginning and are learning on the go, which isn't the easiest way to start, but sometimes the best for experience," said assistant coach Matt Warshaw. "It's a great chance and experience for us to be able to play Division 1 teams so much. It's pretty rare a Division 3 team gets to have so many high caliber teams on their schedule."
After the Kingsmen complete their tournament trip up to Northern California they will come home and play two home matches and one away match before gearing up for yet another tournament hosted by Claremont.
Nicholas Ballou
Staff Writer
Published Sept. 19, 2012