Back in the game: athletes return to coach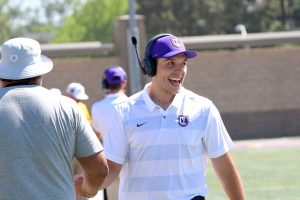 Wake up, coach, upload practice film, do the team's laundry, drive to work for a late-night shift at a second job, go home and sleep.
And somewhere in between, find some time to fit your schoolwork in.
This is the daily routine for former California Lutheran University football player Diego Hernandez, one of several former student athletes getting an early jump start on their coaching careers as 20-somethings.
"A lot of players think we're all making money," said Hernandez, a former two-year starter coaching the Kingsmen tight ends without pay. "But man, that's not the case. Coaches just do it purely out of love for the game or love for the kids."
As is the case with almost every other field, entry-level positions on an intercollegiate coaching staff require a lot of grunt work, the kind of behind-the-scenes chores that usually go unnoticed by those outside of the program.
"I was the one who packed the bags before the games and set up the locker room before home games," said Gabe Naudin, a four-year member of the Kingsmen men's soccer program who now roams the sideline as a graduate assistant. "I am basically just someone who is there to make the job easier for the coach, and anything he needs me to do, I am available for."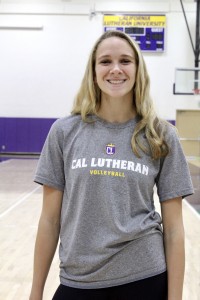 After graduating last spring, Naudin now juggles his newfound coaching responsibility with his eyes set keenly on receiving his master's degree from Cal Lutheran.
"Receiving a master's can only help you in the long run and it will put you one step ahead of your competition when applying for jobs after school," said Naudin, who is compensated for coaching with money towards his graduate program. "Also, it is a really good resume builder when you have the grad assistant title next to your other accomplishments."
Regals volleyball Assistant Coach Monica Lundgren helps out as the middles coach on the court, but also has the role of recruiter.
"I was a middle when I played, so I love giving them the small tips that I used to do," said Lundgren, who unlike Naudin, receives a stipend for her coaching duties since she is not enrolled in a Cal Lutheran graduate program. "I also do a lot of the recruiting and setting up recruit visits when they come stay the night with the girls on the team."
Lundgren coaches under Head Coach Kellee Roesel and alongside good friend and former teammate Nicki Tetherow.
"Coach Kellee has been an amazing mentor for me in my life and I am so grateful to help her out as an assistant coach and hopefully reach another national championship one day," Tetherow said.
As a second-year coach working with the defensive specialists and liberos, Tetherow works closely with former teammate and senior libero CJ O'Brien on a day-to-day basis. O'Brien praised her former teammates, Tetherow and Lundgren, for the job they're doing as coaches.
"Monica [Lundgren] and Nicki [Tetherow] love the game and care deeply for us," O'Brien said. "They are always available to help us get extra reps, be there if we need emotional support, and they bring high energy to games and practices."
One of the common difficulties graduate assistants face is transitioning from a former teammate to an authority figure. Each of the student assistants shared that the role took some adjustments.
"It's definitely weird at first because I've played with some of the guys that I've coached," said Ramsey Abushahla, who coaches the outfielders under Kingsmen baseball Head Coach Marty Slimak. "In my second year having only played with the seniors, it's a little more established that I'm a coach and not these guys' teammate anymore."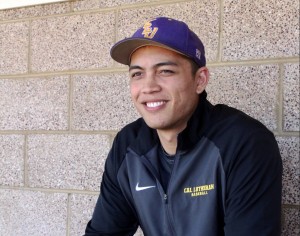 Kingsmen baseball Assistant Coach and Junior Varsity Head Coach Eddie Villegas, who played with and now coaches alongside Abushahla, said he tries to remain the same type of approachable person he was as a player when coaching.
"I'm so used to being on the other side of being the goofball and having fun with my teammates," said Villegas, who had the desire to become a coach since he was in high school. "But I make sure there's a time and place where I can joke around and a time where it's time to focus and work on whatever we need to do."
The ability to relate to players is one of the qualities that Kingsmen football offensive coordinator Anthony Lugo said he admires most about Hernandez.
"Diego [Hernandez]'s attention to detail and the way he can relate to the players and get them to understand concepts are qualities of a great teacher," Lugo said. "He is a grinder and I admire his work ethic. He's a big part of our offensive staff."
Hernandez, who adopted a coaching mindset toward the end of his senior year after suffering a season-ending ACL tear, credits Lugo and Head Coach Ben McEnroe for helping him make the most out of this opportunity.
"Those are just some of the greatest dudes I've ever met," Hernandez said. "If I don't end up going the coaching route, those two guys are great to learn from for sure, just for life in general."
Jake Gould 
Reporter