It took Grammy award-winning singer-songwriter Jason Mraz two minutes to respond to music producer Mikal Blue's email request to perform at the Music Strong Borderline Victims Benefit Concert Feb. 10.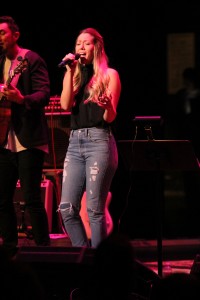 A few phone calls and emails later, and Blue had an all-star lineup featuring Mraz, Grammy award-winning artist and Thousand Oaks native Colbie Caillat, 1970s-era band Pablo Cruise, singer-songwriter Annie Bosko and special guest Rick Springfield, among other artists.
Caillat said she immediately agreed to Blue's request to perform because she has known Blue since she was a teenager and frequently visited him at his recording studios to develop her career prior to becoming famous.
Caillat said she was in Nashville when she heard about the Nov. 7 mass shooting at Borderline.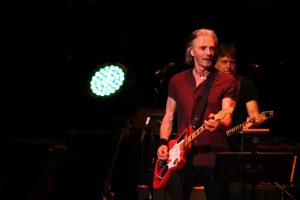 "I wished I could just fly here to do something," Caillat said during the concert. "When you see and hear something terrible going on you want to know how you can help."
In the crowd of more than 1,800 people, sat the families of the Borderline victims, Route 91 Harvest Festival shooting survivors, Thousand Oaks Police Chief Tim Hagel, Thousand Oaks Fire Captain Ken Roberts and Borderline Bar and Grill Owner Brian Hynes.
"Nov. 7 didn't change 12 families, 140 young college kids. It changed a community and brought us together," Hagel said. "There might be 130,000 people in this valley and we might walk differently, we might look differently, we might even speak differently. But it brought a community together."
Hagel also said the Thousand Oaks Police Department received more than 10,000 letters written in support of first responders and the victims' families.
Although many of the performances brought the audience to their feet throughout the night, it was the 6-minute speech that Borderline victim Blake Dingman's mother, Lori Dingman, gave that garnered the longest standing ovation at nearly 40 seconds long.
"This horrific, unimaginable thing that has taken place…has obviously pierced every one of our families that we could have never imagined," Dingman said. "We know that you are with us, that you grieve with us, and with all of our hearts, we say 'thank you.'"
Shortly after hearing about the mass shooting Nov. 7, Blue said he and music producer John Bryan started talking about putting together a benefit concert because they "felt helpless" and "didn't know what else to do."
"On November the 8th, I texted Mikal [Blue] and asked him if he was ok. Then I immediately told [him], 'We've got to do something for the families,'" Bryan said.
Blue is an English producer and songwriter who has lived in Thousand Oaks for 17 years and is best known for his work with Mraz and Caillat.
The sold-out Music Strong benefit concert was held in the Fred Kavli Theatre at the Thousand Oaks Civic Arts Plaza, and was the first of a two-night showcase to aid those affected by the Borderline shooting.
The second concert Feb. 11 was presented by the Academy of Country Music and featured country artists such as Cassadee Pope, Trace Adkins and Chip Esten, among others.
The back-to-back benefits come nearly one month after a Jan. 13 benefit concert at the Fred Kavli Theater that featured REO Speedwagon, Eddie Money and Richard Marx.
The Jan. 13 concert raised over $300,000 for the Ventura County Community Foundation, according to the Ventura County Star. All of the concert proceeds will go to the families of victims.
Olivia Schouten
News Editor