Oxnard Shelter Opens Doors for Overnight Stays
February 12, 2019|98 Views
The building that once served as the National Guard Armory in Oxnard has been transformed into a temporary refuge for homeless people who do not have access to food, shelter and hygiene care.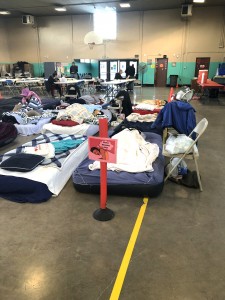 The shelter,  located at 351 South K St., opened its doors to the homeless community Jan. 29, a day earlier than the original commencement date due to rain storms and cold weather.
The shelter is the first co-ed 24-hour homeless service to open in Ventura County.
The arrangement to have the former armory serve as a permanent shelter location is still dependent on funding, Shelter Supervisor Nina Castellano said. She said the shelter will continue operations as long as it receives funding from private donors.
"We have a big issue in the downtown area in Oxnard," Castellano said. "Camping tents are being set up in front of businesses and these individuals are also creating unwanted trash, so hopefully this shelter will be able to relieve some of that."
Castellano said the shelter is currently made up of roughly 70 percent men and 30 percent women. Additionally, she said nearly 90 percent of those seeking refuge are "chronically homeless," or without permanent residence.
According to the Ventura County Preliminary Homeless Count Report, there were 1,299 homeless adults and children in 2018. This number is up from 1,152 in 2017, which is a 12.8 percent increase, the survey reports.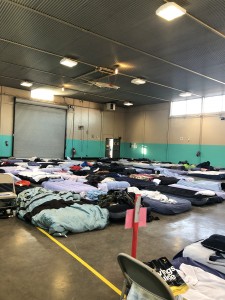 The shelter has the capacity to serve 110 people, Castellano said. It has a common area that serves as a living room, a shower area and an assigned sleeping area. In the sleeping quarter, each inflatable mattress is marked with the resident's assigned number and are separated by gender, men on one side of the building and women on the opposite side.
Shelter Intake and 211 Bilingual Call Specialist Rosie Cisneros said each resident is given a number for their bed and shower assignment.
Cisneros said in order to stay in the shelter, people will first need to fill out an application, provide an identification card, test negative for tuberculosis and be referred to the shelter by a third party.
"Working in the nonprofit sector and serving the underserved is a very humbling experience—it is the little things that make all the difference," Cisneros said.
Cisneros said she takes down information such as potential residents' name, sex, income and the length of being homeless when processing their applications.
"Basic information is important factors that can help us apply for funding and help Ventura County expand the homeless shelter services," Cisneros said.
City of Oxnard Homeless Shelter Staff Member Brenda White said she is fighting to show her support for the homeless through the various opportunities she has had working for the shelter.
"I like working with people; I like working with seniors and homeless people," White said.
The shelter offers families vouchers to a motel to have a private and more adequate place to stay. Additionally, the shelter directs homeless teenagers to a nearby group home.
To make donations, call (805) 247-0335. To volunteer for the Ventura County Preliminary Homeless Count Report, visit the website www.volunteerventuracounty.org.
Maria Barragan
Reporter