Westboro Baptist Met With Counter-Protest From Thousand Oaks Community
Threats of protests from cult group Westboro Baptist Church turned to a display of solidarity early Monday morning as counter-protestors including California Lutheran University staff, students and faculty lined Moorpark Road.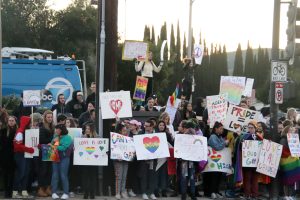 Cars honked. People cheered. Donuts and coffee were shared. And signs with phrases such as "don't measure God's love" and "silence is violence" made by Cal Lutheran students in the chapel Sunday night were shared with protestors and displayed out to the streets, along with symbols like flags in support of the LGBT community.
The church group wrote in a press release distributed Feb. 4, "The wildfires that ravaged Thousand Oaks in November, as well as the shooter that same month, are manifestations of God's wrath against this evil place. We beseech our neighbors to submit themselves before their Creator with humility and fear."
Westboro Baptist Church is based in Topeka, Kansas, and known for hate speech toward LGBTQ and other groups and for picketing at events such as military funerals.
Word about WBC's expected attendance at Thousand Oaks High School and Pepperdine University spread on social media last week, prompting plans for a peaceful counter-protest.
"It was a straight attack on a community that was still healing from a tragic event…They decided to come and add lemon to the wound," said junior Sofia Herrera, president of the Cal Lutheran PRIDE Club, who decided to "spring into action."
PRIDE Club, with help from Campus Ministry, coordinated two sign-making sessions in the chapel on Sunday, Feb. 10. Herrera said about 10 people made approximately 53 signs in just the first session, leaving plenty to share spread out on a table  that was on the sidewalk Monday morning.
The club also coordinated with groups including Conejo Valley Pride to hand out valentines to students and passers-by at Thousand Oaks Community Park by the high school that afternoon.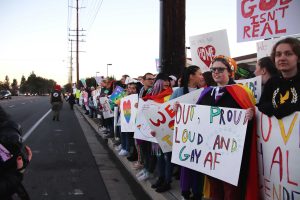 "It was great to see the community come together with so much love and so much happiness, especially so early in the morning," Herrera said.
Pastor Melissa Maxwell-Doherty, Cal Lutheran's vice president for mission and identity, said there were "a myriad of responses" that were taken through the university and in the community, all of them positive.
"It gives people a chance to speak out to their values…for the university, that is the dignity of each individual person," Maxwell-Doherty said.
Anthem Thousand Oaks, the church located next to TOHS, coordinated a prayer response from 6:30-7 a.m. that brought almost 75 people from churches around Ventura County, Pastor Matt Larson said. The church had open doors with the sign "You are loved Thousand Oaks" displayed at the entrance. As members of the church prayed, student ministry were also handing out juice and donuts to students arriving for school.
Larson said the church was following the recommendation of the high school's principal, who advised ignoring Westboro Baptist members.
"It was very encouraging to see the response of people wanting to pray for our community," Larson said.
Cal Lutheran student Suvee Ranasinghe was at the counter-protest with her friends Leah Marty and Garrett Wyatt. Wyatt said for him, the matter was personal. His friend Blaze Bernstein, 19, was killed in January 2018 for being gay, prompting the campaign "Blaze it Forward," which was written on Wyatt's T-shirt that morning.
"I don't think we could've not come," Ranasinghe said. "I just think it's awesome that the community has been brought together with such love."
For individuals like Wyatt, the turnout for the counter-protest and other ways the community has come together  since the Borderline Bar & Grill shooting and Hill and Woolsey fires in November have only solidified a sense of strength in Thousand Oaks.
Although the Ventura County Sheriff's Office and Thousand Oaks Police directed counter-protestors to stand at the corner of Moorpark Road and Avenida de las Flores, signs were stuck in the grass in front of the high school with phrases like "TO Strong," "Country Strong," and the names of the 12 victims of the Nov. 7 Borderline Bar & Grill shooting.
Faculty and staff present at the counter-protest included religion professors Colleen Windham-Hughes and Peter Carlson, Communication Department Chair Dru Pagliasotti, Residence Life and Student Conduct personnel and Student Life staff, as well as members of student government.
A small group of Westboro members were standing outside the high school with signs, but people like Larson and Herrera said they never even saw them.
Herrera said the fact that she never saw them actually made her laugh.
"It was amazing…It was without a doubt amazing," Herrera said.
Dakota Allen
Editor in Chief