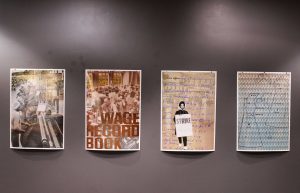 Reminiscing back to the childhood that inspired her to be an artist, Jennifer Vanderpool, an adjunct art professor at California Lutheran University, said she has always had the desire to create.
"I never slept as a child, much to my mother's dismay. I would get up in the middle of the night and play with my toys, craft things and make up projects for myself," Vanderpool said.
Vanderpool's lifetime of creating has paid off. She holds five degrees in art-related fields, including an interdisciplinary doctorate from University of California, Santa Barbara. Her exhibit "Garment Girl," which addresses labor issues in the clothing industry, is on display in the Kwan Fong Gallery of Art and Culture in Soiland Humanities Center.
The inspiration behind Vanderpool's exhibit started when she was the artist-in-residence at Pitzer College from 2010 to 2011 while completing graduate school.
Vanderpool said that several years before she began her new body of work, the anti-sweatshop law passed in Los Angeles, giving her the idea of focusing on textile laborers. 
She was also inspired by the "personal narrative" of her grandmother and mother working in Los Angeles-area sweatshops.
"My mother worked in a sweatshop in the summer to pay for her college tuition," Vanderpool said.
While working on the exhibition at Pitzer College, Vanderpool met Vietnamese refugees that worked in textile sweatshops. These interactions led her to stretch her work beyond her own family history in Los Angeles to the international garment industry as a whole.
Throughout "Garment Girl," there are images of palm trees, water-skiing and lounge chairs contrasted with images of strikes and laborers.
Vanderpool said the leisure images are imaginary and show what her mother imagined California to be like contrasted with what was actually happening.
"My mother always talks about having fantasies of California when she was younger," Vanderpool said.
Another personal touch in "Garment Girl" is the textile patterns, which are the exact patterns from Vanderpool's 1960s vintage clothing collection.
According to a Cal Lutheran press release, the exhibit first opened in Hanoi, Vietnam last year.
Vanderpool said she knew she was meant to be an artist after she did an exhibition in 2008 in Culver City that her parents flew out from Ohio to see.
"My dad walked in and said 'You know you used to make things like this when you were little,'" Vanderpool said.
Rachel Schmid, curator of collections and exhibitions at Cal Lutheran, said Vanderpool's work ethic in real life is reflective in her artwork.
"She is a workaholic, but when it comes to her artwork she is very meticulous. If she is researching floriculture in Quito, Ecuador, she will go there and go to rural environments and interview people and work closely with them," Schmid said.
Addtionally, Schmid said she appreciates Vanderpool's dedication to social issues, especially when it comes to lesser- known industries.
"I don't think about where my flowers come from when I buy them from Trader Joe's, but she asks those questions," Schmid said.
Art Professor Christine Sellin described Vanderpool as "one of the most unusual of creators," and said she is thoughtful, articulate, kind and gifted.
"She is fully an artist, fully a filmmaker and fully an art historian," Sellin said. "What she is able to do is take artifacts from the past such as her family heritage and personal experience or even the past in art history, and so it's these artifacts that constitute the materials of her objects, instillations, films and her imagery."
"Garment Girl" will run through March 2. A free clothing swap open to students will take place March 2 from 11 a.m. to 3 p.m. in Kwan Fong Gallery. Attendees can drop off clothing they no longer wear and swap it with other people's donated clothes to extend and repurpose the garment's life.
McKenna King
Reporter