Totally Wicked: Partying for a Cause
February 19, 2019|20 Views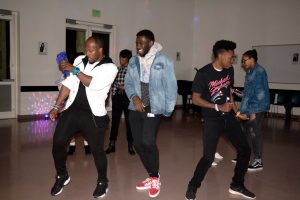 Members of Black Student Union gathered in Overton Hall among other California Lutheran University students to dance to '90s music and display themed costumes during Sisters' Circle's "totally wicked" '90s benefit party.
Entrance fees from the event on Friday, Feb. 15, went to the Black Youth Project.
"We wanted to do something for the entire university to get involved in, especially for Black History Month," said senior Aliyah Wimbish, president of Sisters' Circle. 
Sisters' Circle is a support system for African-American women at Cal Lutheran. Wimbush said she decided to host the party in hopes of raising donations toward the Black Youth Project.
The Black Youth Project examines "the attitudes, resources, and culture of the young, urban black millennial" and explores how these factors influence their "decision-making, norms, and behavior," according to the organization's website. Wimbish said the project also offers scholarships.
"I think that the point of the Black Youth Project is empowering black youth by reminding them that they have a choice and help them go on the right path," Wimbish said.
Wimbish said she worked with the other officers in Sisters' Circle to come up with an event idea, and they selected the '90s theme. 
"Typically, people get really excited for '90s parties because they're a big hit, so we figured that the more people that come to our party, the more donations we can have," Wimbish said.
The event was open to everyone on campus. Wimbish said Sisters' Circle wants to get their name out by promoting more schoolwide events to build  a larger community, while still supporting black culture and black youth.
Sophomore Taylor Brown, another member of Sisters' Circle, manages the social media and marketing page for the group. Brown said she joined Sisters' Circle in hopes of seeing more African-American girls on campus because she didn't see many during her first year at Cal Lutheran.
"We decided to host the party the day after Valentine's Day because we wanted people to have that same energy during the event," Brown said.
Wimbish said at first the group didn't know that date was the start of a three-day weekend, but they wanted to do a Friday night so that people wouldn't have to worry about school the next day.
"I think the food is good and I really like how they have soda in the glass bottles. It's very '90s-ish and they also have good music," said first-year Lilijana Peters-Semak, another member of Sisters' Circle.
Sophomore Lindy Ortiz heard about the event through Instagram and word-of-mouth. Ortiz wore all denim with a turtleneck and several pins on her jacket, which she said support diversity and the black community.
"I've been to formal school events, but I like how this is different and informal. It's cool how [Sisters' Circle] hosted it because it supports a good cause and brings the Cal Lutheran community together while making it fun," Ortiz said.
Brown said Sisters' Circle, which is gender-exclusive, is hoping to recruit more African-American women. In the future, Wimbish says she hopes to host  more events like the '90s party.
James Alfaro
Reporter
Editor's note: This article was updated on Feb. 21, 2019 to reflect that Sisters' Circle is not a part of Black Student Union, that it is a support group rather than a campus club, and that the group did not draw inspiration from other specific benefit parties when choosing a theme.