Proposed Highway Bill Honors Late Sgt. Helus
A stretch of Highway 101 between Hampshire and Lynn roads could soon be renamed to honor late Ventura County Sgt. Ron Helus, 54, who was one of the 12 victims in the Nov. 7 Borderline Bar & Grill mass shooting.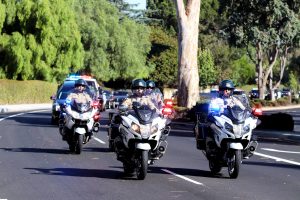 In the late morning on Nov. 8, a Ventura County Sheriff motorcade escorted a hearse carrying Helus' body from Los Robles Regional Medical Center to the Ventura  County medical examiner's office. The procession shut down North Highway 101 near Lynn Road, according to the Ventura County Star.
Two weeks ago, the resolution to rename both sides of the highway was presented to the Thousand Oaks City Council by California State Assemblywoman Jacqui Irwin. The bill is set to be considered for sponsorship by the assembly committee on transportation Feb. 26.
"I think that it is important to the family that they see how much the community values their service and mourns the loss of one of the people that dedicated their life to protecting their community," Irwin said in an interview with The Echo. "What has been really great to see is how the community has come together to support the families and to support Sgt. Helus…we have received nothing but support for the sign."
Currently, the bill is listed to be reviewed by state transportation committees. If approved, it will move on to the state senate and the review process will begin all over again.
If state assembly and senate reach an agreement, the bill will go to the governor's office to be approved or vetoed.
Any costs resulting from this dedication will be paid for by private party donations and through fundraising by police and sheriff charitable foundations, Irwin said.
The resolution has received widespread support by council members and is more "ceremonial than it is traditional," so it may move through the legislative process faster, Irwin said.
Although the timetable to pass such legislation is not "set in stone" and varies from bill to bill, Irwin said she hopes it will be signed by Gov. Gavin Newsom by the end of summer.
In what would be the last act of his 29-year law enforcement career, Helus was one of the first officers inside Borderline Bar & Grill after responding to calls about an active shooter situation the night of Nov. 7.
Ventura County Sheriff Sgt. Eric Buschow said Helus was known for his dedication to his community, years of service and love for his family.
According to CNN, Ventura County Detective Chris Dyer said Helus owned a private business that taught gun safety to people seeking concealed carry permits and was a firearms instructor that taught basic training to new Ventura County Sheriff's recruits.
"[Helus]…served people in so many different ways, but the thing that people will remember most and that had the greatest impact on the community overall would be that final call," Buschow said. "For Thousand Oaks, this bill is an important reminder of what happened there and it provides that permanent reminder in honoring Ron's [Helus'] service and sacrifices he made in saving others, and I think that is important."
City of Thousand Oaks Legislative Affairs Manager Mina Layba said she hopes the bill is seen as an act of honor toward an important person in the community that served heroically.
"It is important that people continue to remember his heroic action and that we honor it. People would have the ability to do that as they come through our community," Layba said.
Irwin has led initiatives for highway dedications in the past. She  was part of legislation to rename part of Highway 101 near Lewis Road for late Ventura County Sheriff's Deputy Sgt. Yevhen "Eugene" Kostiuchenko during her first term. Kostiuchenko was struck and killed by a drunk driver Oct. 28, 2014.
Erin Niemi
Reporter