Up From Ashes: Construction After Thomas, Woolsey Fires
In Dec. 2017, the Thomas Fire made its way through Ventura County, destroying 1,063 structures and damaging nearly 280 others.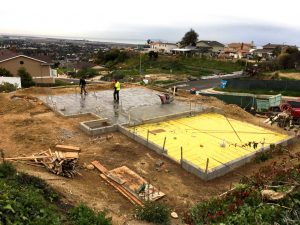 After scorching 281,893 acres, the Thomas Fire became one of California's top ten most destructive wildfires, according to the California Department of Forestry and Fire Protection.
Nearly one year later in Nov. 2018, the Woolsey fire became the most destructive fire in Los Angeles County, according to the Los Angeles county website. It torched nearly 1,700 structures and burned 96,949 acres, according to the Cal Fire website.
In the aftermath of these wildfires, independent contractors and construction companies in the county are backlogged with potential clients and are just now beginning to start the rebuilding phase.
Karen Feeney, communication representative for Allen Construction, said the company currently has eight potential clients that lost their homes to the Thomas fire. Allen Construction has begun rebuilding one client's home and another client has recently signed with them. The remaining six are still negotiating with their insurance companies, Feeney said.
"A lot of people are stuck in this phase even after a year and two months," Feeney said.
Feeney said a challenge for these victims has been negotiating pricing with insurance companies. She said insurance companies have been giving clients "low-ball prices" that are not sufficient for victims to begin the reconstruction process.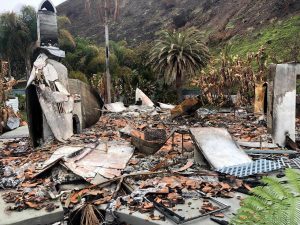 Insurance also poses a challenge for Woolsey Fire victims, as Advantage Capital Advisors Financial Adviser Andrew Martino said some people are under-insured.
In order for fire victims to receive a bank loan, they need to provide W-2 forms and bank statements after the banks "go through [people's] financial situations with a fine-toothed comb," Martino said.
"I mean, they're probably not going to be able to afford to build another home if they don't have the money, so it's a sad situation," Martino said. "Financing is tough these days because the banks want full documentation."
According to the City of Ventura, 193 structure permits have been approved for rebuilding after the Thomas Fire, while 402 repair permits have been issued. However, there are still 103 permits under review.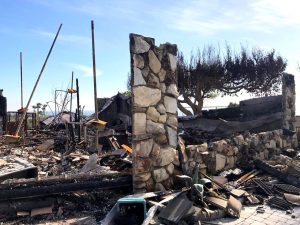 Feeney said that, occasionally, they see people who would rather sell their land than go through the reconstruction process because of the cost.
The permit process begins with creating plans for rebuilding and sending it to the city to be reviewed. The permits are only approved if the architectural plans meet the city's regulations for building, safety, environmental services, fire codes and land development. Once approved, a building permit is issued to the construction company or independent contractor and the inspection process begins.
Mark Celentano, general contractor and owner of Celentano Construction Company, said it is taking two to three days for "like-kind" building permits to be approved in Malibu. Like-kind construction is when a client decides to rebuild the structure to the original, pre-fire form.
Celentano also said Malibu has been trying to expedite the permit approval process in the aftermath of the Woolsey Fire. He said plans to rebuild 24 homes in Malibu were submitted to the city planning department and were approved in two to three days.
However, Celentano said his contracting company has not begun reconstruction yet because most Woolsey Fire victims have been cleaning up fire debris.
"I think people don't have a realistic expectation of what's involved [in reconstruction]," Celentano said.  "The big part is trying to make [clients] feel comfortable, [so] they can rebuild their home."
Yolanda Arciniega
Reporter