ASCLU President Nick Steinwender Removed From Office, Will Appeal Vote March 11
Former ASCLU President Nick Steinwender was removed from office Feb. 25 per a decision by the Judicial Board that oversees the Associated Students of California Lutheran University Government. Former Senate Director Alexis Ghattas is now serving as president, but Steinwender will be appealing March 11 before Senate and Programs Board.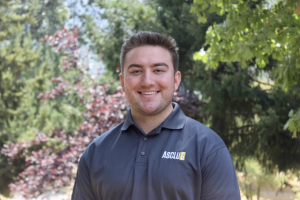 Steinwender's appeal needs to be approved by a three-fourths majority vote in a conjoined Senate and Programs Board meeting in order for him to be reinstated as president. Otherwise, Ghattas has until March 18 to appoint a new senate director.
The decision came in the midst of ongoing Executive Cabinet elections, and as Steinwender's term is already set to end by May 1.
"Regardless if I had stayed Chair of the Elections Committee or not, these individuals had already placed a target on my back and would've proceeded with impeachment," Steinwender said in a statement released Feb. 26. "What this impeachment came down to was a political witch hunt."
The charges
The Judicial Board's decision was based upon a complaint from students, who came to Programs Board Director Heather Hooker regarding Steinwender's choice to step down from the elections committee this year.
The ASCLUG bylaws state that the president should serve as chair of the elections committee, unless they are running for office.
The second complaint from the nine students who signed off on the charges was that Steinwender endorsed his friend and roommate, Sophomore Senator Thomas Singelyn, for the 2019-20 ASCLU presidency. Section 5 of the ASCLUG bylaws states that all committee members "must remain neutral in elections. No member may help promote any specific candidate for election."
Steinwender announced his endorsement of Singelyn Feb. 12, after he removed himself from the elections committee in January.
According to an ASCLUG press release, the nine complainants were former senate recorder Kleya Dhenin, Sophomore Senator Garrett Mueller, Erica Cornelius, Alyssa Frausto, Programs Board First-year Representative Kelsey Gomez, Programs Board First-year Representative MaHadaye LeCounte, Junior Senator and presidential candidate Stephanie Figueroa, Sophomore Senator and former presidential candidate Karyme Lara-Chagoya and Talia Gaulke.
"You can't just pick and choose your duties," said Mueller, who sides with the Judicial Board's decision to remove Steinwender from office.
Ghattas said she never heard concern from the elections committee after Steinwender stepped down as chair.
When asked why there was a gap between Steinwender stepping down and the complaints being filed, Mueller said senators likely did not feel comfortable speaking up given that Ghattas and Steinwender are friends.
Steinwender said he removed himself from the committee to avoid conflict of interest with Singelyn running for office. He said the board has created "dangerous precedence" that leaves no choice than for an elections committee member to step down, or for the individual running to turn down the opportunity.
"Constitutionally, I believe that he had the power to step down," said Ghattas, who added that she thinks there is "too much gray area," and Steinwender would have had a conflict of interest whether or not he stepped down.
Ghattas also said the constitution is too "black or white" in that it lists no other sanctions for when complaints are brought to Judicial Board other than removal from office.
Dhenin, who Mueller said led the process of filing complaints against Steinwender, did not respond to a request for comment.
About the Judicial Board
The Judicial Board consists of three students, one faculty member and Vice President of Student Affairs and Dean of Students Melinda Roper. Two of the students on the board are appointed by the student body president. The other student and the faculty member are appointed by the board chair.
In an email interview, Roper said removal from office was the "recommended action" per the constitution.
"The board determined that the ASCLUG constitution and bylaws were straightforward and convincing as concerns the duty of the ASCLUG president to serve as the chair of the elections committee," Roper wrote. "The board further determined that by removing himself from the committee, the ASCLUG president was in violation of the constitution and bylaws. As such, the board voted to remove him from office effective immediately."
Roper said whether the Judicial Board's vote was unanimous or split is "confidential."
"As chair of the Judicial Board, it was my decision to keep the details of the vote confidential," Roper said in a follow-up email.
She emphasized a "fair and impartial process" and said both the plaintiffs and the defendant, Steinwender, had the right to speak to the board.
Hooker said she personally brought another complaint to the Judicial Board because this year's elections packet was never approved by a formal vote by the elections committee. Hooker said this was "just a matter of being fair" given some vague language in the packet, and said it was unrelated to Steinwender's removal.
No notification from the university or ASCLUG has been sent to the student body as of March 4 at 7 p.m. regarding these events since the Judicial Board voted Monday, Feb. 25. Roper said the decision to announce Steinwender's removal is "up to ASCLUG."
The appeal, spring formal and other issues
Steinwender will appear before Senate and Programs Board at their March 11 meetings.
Ghattas said a "large majority of people" on student government are upset about the decision, while others have expressed relief.
Mueller said if Steinwender were to win his appeal, "he would be holding excessive pride and excessive ego" as the first president to serve two terms, the second to be impeached and the first to be reinstated.
Steinwender also spoke during the public comments section of the Feb. 25 Programs Board meeting to discuss concerns regarding transparency with spring formal and the venue's proximity to Borderline Bar & Grill.
Programs Board did not announce until Monday, March 4 that the venue will be Los Robles Greens, located down the street from Borderline. Ghattas said although she is unsure of the feasibility of changing the location, given that a deposit has been made and spring formal planning was delayed by original plans to host a spring carnival, she still sees a need for more transparency.
"Those minutes should be published for the student body," Ghattas said. "We need to think of some way to address this as a government."
Ghattas said she also planned to do a press release regarding Steinwender's removal from office. One was sent to The Echo Feb. 28, but no information has been posted on ASCLUG's social media or emailed to students as of March 4.
Dakota Allen
Editor in Chief
Editor's note: This article was updated March 5 following interviews with Ghattas and Mueller, and to add information regarding Steweinder's appeal. The article was updated again March 7 to remove the text of a tweet by former ASCLU President Daniel Lacey that was taken out of context in Steinwender's statement.