'Justice for Dontre:' Hamilton Family Documentary Chronicle's Quest for Answers in Son's 2014 Death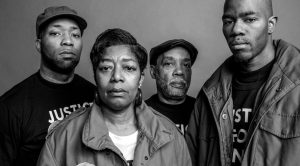 Five years after the death of 31 year old Dontre Hamilton, an unarmed black man who was shot 14 times by an officer from Milwaukee Police, his family is telling people to "move, become active, seek to learn and have love for one another" in communities across the nation.
The Hamilton family's documentary, "The Blood is at the Doorstep," premiered Feb. 28 in the Preus-Brandt Forum for the California Lutheran University community.
"We want to continuously…help brothers and sisters throughout this country who go through these things—their voice can be a permanent statement for a real change when it comes to violence against young black men and women," said Nate Hamilton, Dontre's brother and co-founder of Coalition for Justice.
The documentary follows the Hamilton family—Maria, Nate and Damien—over a period of three years from the beginning of the police investigation. The film has been described by the Hollywood Reporter as "an urgent report from the front lines of an American crisis," and is rated 100 percent on Rotten Tomatoes.
The day after Dontre's death on April 30, 2014, the Milwaukee chief of police told media he was killed because of a "mental health situation."
Damien Hamilton, Dontre's brother, said "initially, they didn't even know he had a mental health issue until they spoke to my mom."
Erik Ljung, director and producer of "The Blood is at the Doorstep," said once a story like this gets to the media, it can be difficult to tell the public a different story and try to change their minds and convince them.
Ljung said his goal was to show the Hamilton family's perspective, the hope that came out of the situation and who Dontre was as a person.
"You don't get to see the growth of a family, you don't get to see the healing and the community coming together," Ljung said as he talked about representation in the media.
Maria Hamilton, Dontre's mother and founder of Mothers for Justice United, said in a panel discussion after the film premiere that the movement is for everybody. She said everybody should go out into other communities to "see what is happening on their doorstep."
"I always say, if you came today and you saw the movie then you're aware that there is an issue…you realize that the blood is at your doorstep," Damien Hamilton said. "Since you've seen the trouble, be a voice to your community—go out and spread the word about what you've seen to other people and continue to have these open-ended conversations."
Coalition for Justice was co-founded by Nate Hamilton. It started when he saw little organization at a rally he attended.
"The community needs a social organization that is willing to be forthwith impactful change and have strategies to engage community lovers, but also other organizations and be inclusive of everyone that feels that way and not denying them because of their skin tone or ethnic background," Nate Hamilton said.
Every year, Coalition for Justice hosts a day in Red Arrow Park in Milwaukee to hold "Dontre Day."
"Dontre Day" features music, face painting and resources for those in need. Nate Hamilton said it is a day not only to embrace Dontre as a person, but to help others in need who are vulnerable.
"Dontre was a person that we felt loved us immensely, showed us, told us, and we just want to give that back to people every year," Nate Hamilton said. "Every day, they know that our fight was not a fight of misrepresentation, but it was a fight of who Dontre was to us and who he was to him."
Reverend Steve Jerbi met the Hamilton family at the Ferguson, Missouri rally in August 2014, four months after Dontre's death. Jerbi, who is now a pastor at Bethel Encino in San Fernando Valley, supported the Hamilton family by offering his church as a safe, neutral place for the family to hold meetings.
"Our relationship evolved—it included prayers together, it included going to the cemetery with them and it included sitting in strategy sessions with the Coalition for Justice," Jerbi said.
The Hamilton family have been very active in the community since Dontre's death. As of 2018, police officers are now crisis intervention-trained and every officer has to wear a body camera.
"We've seen some interaction with the police and the community, but we're looking for more," Damien Hamilton said. "Once we see total change not just in my community, but in the community you stay in, then we can say that we won."
Desta Goehner, director of congregational relations at Cal Lutheran, said she hopes any person who saw the film will think about their role in the institutions and systems society has constructed.
"How can [people] use their voice to speak up for injustice and speak up when they see something that doesn't feel right?" Goehner said.
Rosie Baker
Reporter