Kingsmen roll to 4-0 victory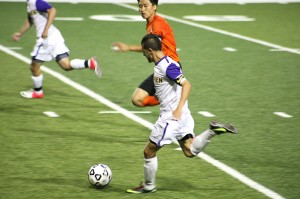 The CLU men's soccer team is off to a strong start this season.
The team improved their overall record with fourth win of the season Wednesday night with a victory over the CalTech Beavers. They improved to 2-1 in SCIAC conference play after their 4-0 win over the Beavers.
The third home contest for the Kingsmen began at 7 p.m. in William Rolland Stadium, and was ended up being dominated by the Kingsmen.
With a slow start to the match, both defenses played strongly allowing only six combined shots on goal through the middle of the first half.
In the 30th minute that changed, when midfielder Danny Kuntz passed the ball to senior Raul Yepez for the first goal of the contest. Yepez received the pass, dribbled past two CalTech defenders, and put the ball right in the middle of the net to put the Kingsmen up 1-0.
"I think Raul's first goal was magical. When I passed him the ball he surprised us all with a quick turn behind the defender to score," said Kuntz.
The start of the second half held much more action than the first. In the 56th minute Yepez once again provided the Kingsmen with a chance to score. Yepez received a pass from midfielder Tyler Pascoe and drew a foul inside the 18-yard box.
This provided the Kingsmen with a penalty kick. Kuntz lined up the ball and converted with a high kick bouncing off the crossbar and into the goal.
"I absolutely meant to hit it like that," said Kuntz.  "After missing a critical penalty kick last year, I wanted to make a statement. I think taking it the way I did certainly did that."
This brought the Kingsmen to a 2-0 lead over the Beavers.
As time on the clock ticked away and the Kingsmen nearly locked up their second SCIAC victory, another two goals were scored within the final five minutes of the match.
Yepez scored his second of the match and fourth of the season in the 86th minute. In the 87th minute any hopes for the CalTech Beavers were put to rest when junior forward Kyle Fleming scored.
The Kingsmen hope to use this victory as a benchmark for the rest of the season.
"There's always things a team has to improve on. I would say scoring the opportunities that we have and also our midfield should be more consistent on our touches in order to control the game," said Yepez.
With the season just getting underway there are many opportunities in both the weight room and practice field to improve. The Kingsmen will have one more non-conference match before beginning their run at a SCIAC championship.
Ty Olson
Staff Writer
Published Sept. 26, 2012