Semester's first improv show introduces new talent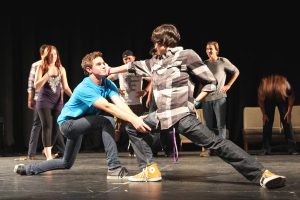 Kicking off the new school year with five new members, the improv team is more ready than ever to steal the stage and make CLU students laugh until their stomachs hurt.
Improv is a bimonthly event that takes place on Thursday's at 11 p.m. in the Preus-Brandt Forum. This year's first show was on Thursday, Sept. 6.
For the past three years, there have been many of the same faces on the improv team.  However, with some veteran members having graduated last May, auditions this year brought in five talented people who are ready to bring a new light to the stage.
"I love the new additions to our group.  They bring in a new energy, which is exactly what we need," said senior Jeremy Hanna.
During a typical improv show troop members play improvisational games where they come up with scenarios off the top of their head, anything from pick-up lines to creating scenes out of nothing, all with a comic flare.  Often they will ask audience members for suggestions as to what type of scenes they should do.
Kristen Williams, a senior and returning member of the California Lutheran University improv team, said that anyone who wants to join improv is welcome to attend the first audition.
She explained how, during the audition process a couple of exercises are done, similar to the types that are performed during the actual shows.  After the first audition there are callbacks for the people who are chosen for the final round of auditions.
Four sophomores and one senior were chosen for the team out of more than 30 people who auditioned.
"Although auditions are always scary, the auditions for improv here at CLU weren't as nerve wracking as others," said senior Bryana Gable. "I feel it is because the people and the environment here made me feel very comfortable."
Williams discussed how the candidates who stood out were the people who were confident, supportive, and took risks, explaining that improv is all about the ability to go beyond one's comfort zone and not keep to oneself.  She expressed her excitement about the team and about the year ahead.
"I'm so excited about improv this year. All the new members are extremely talented and have different things to offer to the troop that we didn't have before.  It's also great to have two more girls now, because before I was the only one," said Williams.
Williams said her favorite part about being in improv is the ability to make people laugh, and being with a group of people that you always know will have your back.
Thursday night's improv show was a hit with the students. The theater was packed and had people sitting on the floor.  A welcoming audience cheered on the newest five members during the show.
"I thought the new members to improv were really refreshing. They are a perfect edition to the team and definitely made me laugh a ton," said junior Megan Najera. "I definitely will attend more shows," she said.
Lizzie Lopez
Staff Writer
Published Sept. 26, 2012