Regals soccer loses to Slugs as time expires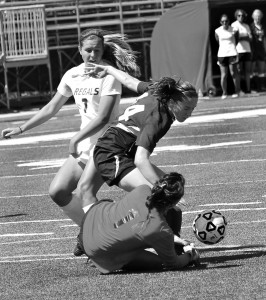 The CLU Regals soccer team was stuck in a back and forth battle with the Santa Cruz Banana Slugs, ending with a 1-0 defeat on Sunday afternoon.
"I really thought that the Regals were playing some good balls down the field and tried to set up as many shot opportunities as possible. It was tough to see that goal late in the game, but the Santa Cruz team was just playing well out there today," said junior Tommy Manella.
The Regals were looking to add another win to their season record of 7-1-0, but were scored off a cross by UCSC forward Kristen Bailey in the 84th minute. Leading up to the goal both teams had many back and forth striking attacks. Many of those ended with near misses or good saves by both teams goalkeepers.
During a 352 minutes streak  Regals defense had a scoreless streak against other teams. This was a compilation of almost four games until the goal was scored against the CLU defense in the  81st minute.
Taylor Will led the Regals with three shots on goal.
"Today I thought the ideas were there. It was just a matter of connecting the little things," said Will.  "I think we had a tough time clicking today in the offense, but when we did have those scoring opportunities, we just couldn't come through."
The Regals had many good chances on goal, but in the end came up short of putting together a decisive strike.
"I think we're still missing a little communication. Whether it's a ball to the feet or telling someone to run in a certain space," said Will. "Being more positive on the field so that when someone does make a mistake they know they will get it the next time around and trusting each other and knowing that if I give someone a ball they will do great things with it."
Will also hopes for "more preparation on the free kicks and corner kicks along with better movement between midfielders and forwards."
Scoring attempts looked favorable in the game for the Regals but they couldn't quite get any ball to hit the back of the net. On at least four shot attempts, the Regals' strikers had shots on target stopped by the goalie or missed the cross bar by several inches.
Despite the loss, it still seems apparent to students that this is a talented bunch.
"I think we have a solid team this year. If there was a D3 fantasy soccer league I'd easily pick a good amount of our players to be on it," said Michael Palmer of the Kingsmen basketball team. "They have good players and are a team that could definitely go the distance this year."
The Regals will focus on preparation all set before they take the field against SCIAC conference opponent Whittier on Wednesday, Sept. 26 in the 7p.m. at William Rolland Stadium.
Nicholas Ballou
Staff Writer
Published Sept. 26, 2012