'Lt. Dan' Coming to Campus: Gary Sinese To Perform Concert April 13
The Gary Sinise Foundation, which was started by the actor who plays Lt. Dan in the 1994 film "Forrest Gump," is putting on a free concert at California Lutheran University to honor Ventura County first responders and those killed in the Nov. 7 Borderline mass shooting and Woolsey and Hill fires.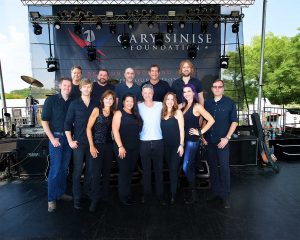 The event will be held April 13 in William Rolland Stadium. Doors open at 4 p.m. and the concert starts at 5 p.m.
"It gives everybody an opportunity to have some fun and salute the men and women who are part of our community and to pay tribute to those that we lost at Borderline," Sinese said. "It was an opportunity for my foundation to do something for my community."
The "Concert for Defenders" will be headlined by Sinise and the Lt. Dan Band, and will feature a special guest performance by Grammy-Nominated band Five For Fighting.
The Gary Sinise Foundation honors and supports veterans, first responders and those in need through programs and events designed to entertain, educate, inspire, strengthen and build communities.
Hannah Luppino, director of programs and events for the Sinese Foundation, said one of the programs consists of a first responders outreach program that supports first responders all over the country. She said the foundation plans over 500 events a year in various cities.
"We have these events so our military…our first responders know that the American people care about them and [are] supporting them and they're here for them," Luppino said.
Luppino said throughout the night, there will be tributes to honor Borderline victims and first responders.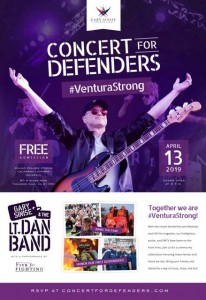 In an email interview, Cal Lutheran President Chris Kimball said Sinise shared his idea of a concert to "lift community spirits" and thank the first responders for their efforts during recent tragedies.
Kimball said his decision to allow the concert was the "right thing" to do not only for Cal Lutheran because it was greatly affected by the tragedies in November, but for the Thousand Oaks community in general.
However, both Sinise and Luppino said they waited until April to have the concert because they wanted to show their support for earlier concerts and fundraisers.
"We decided to wait a little bit because we wanted to kind of let the first responders have a little time to breathe after everything that happened," Luppino said.
Sinise said he also wanted to wait to give a greater opportunity for people to attend the event and to come together to show support.
Luppino said the idea to hold the concert at Cal Lutheran came toward the end of the fires and has been in the works for about the past six months.
"We want them to have a great ol' time  with their families and friends," she added, "We just wanted to give them an evening of relaxation."
Luppino said Cal Lutheran staff such as Special Assistant to the President Rian Curley and Director of Campus Services Vanessa Webster-Smith were helpful in answering their questions and providing security.
Luppino said that all the vendors and musical acts are confirmed and are now planning for set up, which will begin Thursday and Friday.
"Everyone can expect to have a fun time at our show," Sinise said.
For more information about the Gary Sinese Foundation and to RSVP for the concert, visit www.garysinesefoundation.org.
Yolanda Arciniega
Reporter