Take Back the Night Event Highlights Sexual Violence, Advocates for Change
April is Sexual Assault Awareness Month, and Wellness Resources on campus is working to raise awareness of the issue that impacts victims worldwide.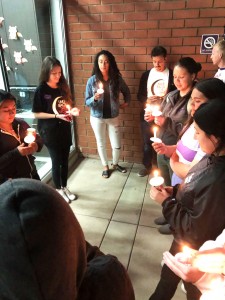 On April 2, California Lutheran University hosted a "Take Back the Night" event intended to create a safe community among students. The event featured guest speaker, sexual violence advocate and Take Back the Night Executive Director Katie Koestner.
Koestner spoke on the history of the Take Back the Night organization. The organization is the first worldwide effort to combat sexual violence and violence against women.
"[Koestner is] speaking from a trauma-informed lens, as someone who has experienced and capitalized on her experience in a way that allows her to share for the benefit of society and women everywhere," said Ryan Kolter, coordinator of recreational sports and wellness at Cal Lutheran.
Koestner shared her personal testimony with sexual assault. After being raped in her first year of college, she started to speak out around the country, advocating for women's stories to be heard and justice to be served for the victims of sexual assault.
Koestner then joined forces with Take Back the Night to further her passion. Take Back the Night began in Belgium and England in the 1960s.
"I'm the one who said, 'Okay, we need at least a hub or a central organization to try to help create more awareness,' and we have actually added like 20 more countries in the last couple years," Koestner said.
Programs Board Junior Representative Chelsea Dunmire helped plan the event this year with Wellness Resources.
"I don't think people realize how prevalent sexual assault is here…I was hoping to bring to light just even having that space to start the conversation, especially with this wave of social justice going on right now," Dunmire said.
Dunmire and Kolter said Wellness Resources is working to create a series of events that will help survivors and friends of survivors who might not know how to react or respond to a loved one who has experienced sexual trauma.
"We would love the Wellness Center to be understood among all students as the place anyone can go to learn about their options and resources and their possibilities to make an informed decision about alcohol and drugs, sex, sexual violence and mental health," Kolter said. "We want to be the place on campus they understand they can come to for resources, information and to make informed decisions that are going to be in their own best interest.
If you or somebody you know is a, or suspected to be, a victim of of sexual violence, resources are available at Wellness Resources, Counseling and Psychological Services or by calling the National Sexual Assault Hotline at 1-800-656-4673.
Britta Olsen
Reporter