Los Robles Greens Reaches Max Capacity at Spring Formal
Lines of California Lutheran University students filled the parking lot at Los Robles Greens in Thousand Oaks, all waiting to enter spring formal April 5.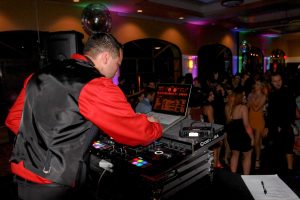 Cal Lutheran Sophomore Programs Board Representative Azubah Collins, who was the lead planner for spring formal, said this dance was unique for its entertainment.
"There's a lot happening compared to other formals. There's a lot more entertainment and it's definitely a lot more spread out," Collins said.
Programs Board Director Heather Hooker said ASCLUG provided an indoor dance floor, black lights and jelly bubble balloons.  There were magicians, fortunetellers and caricature  artists, along with four different photo booths.
Collins said she understands that because some students prefer not to dance, Programs Board added several different forms of entertainment in hopes to bring the student body together and get a higher turnout.
The theme of spring formal was "A Midsummer's Night Dream." Although the theme is somewhat loosely attached, Hooker said it was supposed to give off a whimsical and magical feel.
"I've never actually seen or read the play "A Midsummer's Night Dream," but I liked that you could take this theme and create whatever you envision. So some people may envision a magical fairytale and others think of mysterious woods so we kind of took that and mashed it all together," Collins said. "I think people will really be able to visualize it in their own brains, not just one way to look at this theme."
Collins said in planning spring formal, she had to take her own thoughts out of the equation and listen to what her friends and the student body were saying they wanted in a dance.
Hooker said one concern a lot of students had about spring formal was the venue location and its proximity to Borderline Bar and Grill. Borderline was the location of a mass shooting that killed 12 and injured dozens of people on the night of Nov. 7, 2018.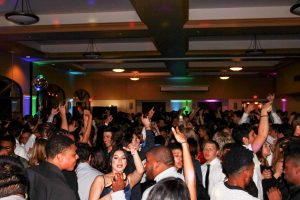 "I get it, but it was a lot harder to find a venue because of the voting process…this made it harder with less time. Ideally, we would have had a venue at the beginning of last semester, but we didn't find one until the end of fall so our options were limited," Hooker said.
Hooker added that because there was a big debate over hosting a spring formal or spring carnival this semester, the venue location was more difficult to book.
Formal attendee Zac Sergey said the dance was not what he was expecting.
"I was expecting something more fun, I wish there were less people on the dance floor," Sergey said.
Hooker said she was advised by Cambria Teter, coordinator for student involvement at Cal Lutheran, about the overcrowded dance floor. Teter advised the best option was to shut the music off for about five minutes. Hooker said she asked Los Robles Greens about venue fire codes and capacity prior to the event.
"The goal was to provide a short break from dancing and redirect some of the students to the gardens area where other activities were taking place," Teter wrote in an email.
In an interview with The Echo, Los Robles Greens confirmed the music was turned off in the middle of the dance because of overcrowding, as the standing capacity of "around 600" in the Sunset Ballroom had been maxed out.
However, senior Aliyah Wimbish said the event was just what she expected. Wimbish said she attended spring formal because it was her last major school event and she wanted to enjoy it with her friends.
Wimbish said she liked the outdoor photo booth in the van and liked the indoor dance floor.
Collins said she wanted to encourage students to speak up about what they want to see in future dances and ASCLUG events.
"I really hope to take this as a learning process for all of us and see what we should implement again next year and see what we should take away," Collins said. "Because there are several new things that could be liked or disliked, and I think that's where we're going to learn what people really want to see from a dance."
Rosie Riehl
Reporter