As five jets roared over William Rolland Stadium the night of April 13, the California Lutheran University Kingsmen and Regals quartets sang the national anthem to kick off a tribute to first responders and those who suffered loss in last November's tragedies at Saturday's "Concert for Defenders."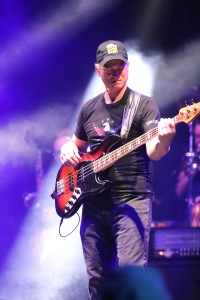 The concert was hosted by the Gary Sinise Foundation to honor those who served during the Nov. 7 Borderline shooting and throughout the Woolsey and Hill fires. The fires burned a total of 96,949 acres, according to CalFire. Despite these tragedies, the concert hosts hoped to provide a sense of community and healing moving forward.
"In the tragedy of these fires…comes a greater tomorrow. With the yellow flowers covering the hills, there is a sign of community," Sinise, a resident of Ventura County, said during opening remarks.
Sinise is known for playing Lt. Dan Taylor in the 1994 film "Forrest Gump." His nonprofit works to honor veterans and first responders nationwide.
Inside William Rolland Stadium were bounce houses, a beer garden and a rock wall. Food trucks were ouside the venue. But in addition to the food and games was a high level of security at the entrance. People were scanned with a metal detector and bags were checked before they could enter the stadium.
Ventura County Sheriff's Senior Deputy John Chiaramonte said officers were there for extra security, although the majority of security personnel present at the concert were private.
After presentation and salute of the colors, firefighters, Borderline victims' families, first responders and veterans were recognized with applause and standing ovations.
Five for Fighting opened the night with a performance of the Grammy-nominated song "Superman." The song, released in 2000, was also performed at remembrance concerts after the events on September 11, 2001.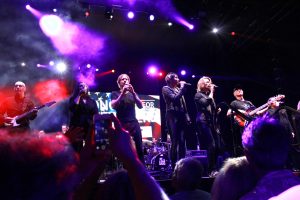 Five for Fighting singer John Ondrasik has lived in Westlake for about 10 years and witnessed the Woolsey and Hill fires. Ondrasik said he found this concert to be "unique" to perform in because of his close proximity and emotional connection to the location.
"It is a melancholy night because as much as we are here to recognize and pay tribute to the firefighters who literally saved my house and to the police officers, we're also recognizing the Borderline 12," Ondrasik said. "I think it's important to recognize, remember and reflect and pay tribute to the heroes of Thousand Oaks."
A remembrance video for the 12 Borderline victims played in the background toward the end of Ondrasik's performance, their photos flashing one-by-one to the beat of instrumental music. A large wooden board stood close to the main stage, where guests could write tributes to defenders or reasons why they are proud to be American. One message said, "You saved my home, thank you," while another said, "I am grateful for this country and for Liberty and Freedom."
"It allows us as community to give them a hug… the one thing we can do is show our support for the families, those that were there that night, those affected. And it's important we do that, and it's important that we do that forever," Ondrasik said.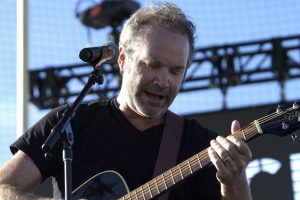 The Lt. Dan Band, a cover band formed by Sinese, began their set at 7 p.m. The performance was preceded by a video montage of Sinise in scenes from "Forrest Gump." The band then played songs including "Uptown Funk," "Honey I'm Good" and "Happy," as a conga line of concert-goers looped through the crowd.
The joyful atmosphere was punctuated by more heavy moments, with repeated calls to remember and honor those involved in recent tragedies.
"This event is so timely…the Gary Sinese Foundation has come to bless our community and it means the world to us," said Thousand Oaks Mayor Rob McCoy. "The fact that [the event] covers all of our first responders and all of our military personnel is a great foundation. As a mayor, I couldn't be more grateful."
As the sun set, lighting of multiple colors soared out over the crowd, which filled most of the stadium seats and half of the football field.
"Following, obviously, what happened, it's a big deal to definitely show first responders that we care, because it's a pretty tough time to be a first responder right now," said Brendan Panosian, a junior at Cal Lutheran. "I just think that it's important to get the whole community involved. And because it happened so close, that to have it at this school where people were impacted, I think it's a big deal."
Erin Niemi
Reporter
Ellie Long
Features Editor