Provost Gives $100k For Student Emergency Fund
In this year's record-breaking Giving Day April 3, Provost and Vice President for Academic Affairs Leanne Neilson and her husband George Neilson made a donation to California Lutheran University that will establish an emergency fund for students.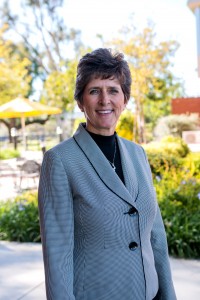 The $100,000 donation was made to create an endowment in honor of Provost Neilson's late father, who received a critical scholarship that kept him in school.
The donation will be invested into the school's general endowment and its proceeds will generate an annual $5,000 scholarship fund for students who experience financial hardship.
"I was originally inspired about giving this gift because of the story of my dad…and the impact that the gift he received made on his life. So that was something I'd heard my dad tell all through my childhood," Neilson said.
Neilson's father, Morris Womack, intended to drop out of Freed-Hardeman College in the 1940s after his first year because of the cost of tuition. According to a press release, Womack was chosen as the recipient of a gift from donor Harland Hooper. Womack later went on to complete a doctoral degree.
"My mom was a freshman the next year, so they met the next year. I'm here because of that gift," Neilson said.
Nielson came to Cal Lutheran as a faculty member in the psychology department in 1993 and has worked in Academic Affairs on campus since 2008. During a cabinet meeting in August 2018, Neilson said there was a discussion about several students at Cal Lutheran who had outstanding fees on their student accounts.
"We were hearing about a few of the students that were just these stellar students and they were terrific and they had this little bit that they needed to pay off and they weren't going to come back in fall," Neilson said.  "When I started hearing these stories, it was in that meeting that I thought 'Oh my goodness, that's my dad. That's exactly what happened to my dad.'"
Last year, the Neilsons donated $5,000 to assist those students directly. They began thinking of ways to regularly make donations to those who were considering dropping out because of finances. Neilson said they decided to use some of her family inheritance to establish the emergency fund endowment.
"Why not funnel some of the money that my parents left for me to students of the future, forever?" Neilson said.
The scholarship will be open to applications through the financial aid office once it is processed through University Advancement.
"This fund is really the first of its kind on campus," said Jerry McKeen, director of financial aid at Cal Lutheran.
The scholarship will be available to any graduate or undergraduate student on campus who may need financial assistance at any point in their academic career. McKeen said the Final Stretch Fund, the only other similar funding available on campus, is generally geared toward graduating seniors.
"What [this donation] does is provide donor funds for students who get in a tight bind, financially, which happens and happens a lot," said Chris Kimball, Cal Lutheran president. "So, to have that pool of money there to be able to help people out of that situation is so awesome to help people finish, because the greatest tragedy is when someone gets close to finishing their degree and doesn't."
Kimball said major donations to the university are typically directed toward building development instead of student experience, which made the Neilsons' gift unique. He said the donation also helps to serve the university's goal of making education more accessible to students of all economic backgrounds.
"People will leave for other reasons, but if we can avoid finances being one as much as possible, I think that would really help," Kimball said. "And we particularly don't want a situation where only the most affluent have an easier path to graduation."
Katherine Lippert
Reporter