Ventura Eco Fest Teaches Sustainability to County, Celebrates Earth Day
The 12th Annual Ventura Earth Day Eco Fest provided entertainment and environmental education April 27 in celebration of Earth Day.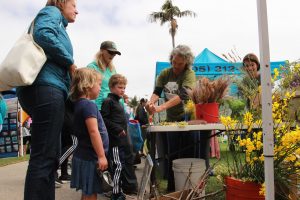 The event was organized by the Ventura Charter School of Arts and Global Education in cooperation with the City of Ventura and featured more than 100 exhibitors.
There was an Earth Day raffle and silent auction for Ventura Charter with the message "Gratitude brings peace for today and creates a vision for tomorrow" painted directly outside of the tent.
The event featured local artists and youth choirs. The grass area on the front end of the stage was filled with hula hoops for children and adults to play with during performances, including a session of hula-hooping with motivational speaker Andi "Andi Girl" Epstein, who has performed in 11 of the 12 festivals.
"I've been here since the very beginning of these events," Epstein said. "The [Ventura Charter School of Arts and Global Education] is an opportunity for kids like me to have a place to learn that is different. I didn't have that opportunity growing up, so to me, that is why this is important to our community."
Other performances included D. On Darox & The Melody Joy Bakers, Ventucky String Band and the Ventura Youth Choir, among others. All performances were free-of-charge.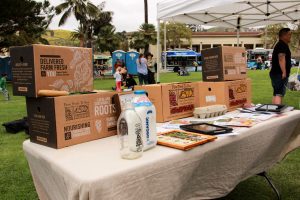 The Earth Day Family Bike Ride to the festival from the Channel Islands National Park headquarters preceded the festival. The ride totaled six miles and was organized by the Channel Islands Bicycle Club in coordination with the City of Ventura.
School board member Cecilia Johnston said this year's event featured new and "fresh faces" from the community compared to previous festivals.
"Until I was on the board, I didn't realize that this was sponsored by Ventura Charter," Johnston said. "It's an amazing event that really brings the whole community in and gives us the chance to show the values of our school."
Other exhibits at the event included a free photo booth with a backdrop created by Ventura Charter students, an electric car show, tents with locally grown plants, eco-friendly art supplies and cosmetics, face painting and food trucks.
Jennifer Wilson worked as a volunteer at the festival and said she has been attending the annual festival with her children for the past six years, making it a family tradition.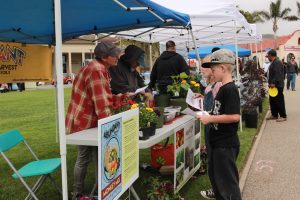 "I think supporting the school, then just connecting with all of the families is my favorite part," Wilson said. "It creates a really fun space for the kids to have fun with their friends and learn about the environment."
For more information on Ventura Charter School of Arts and Global Education, visit www.venturacharterschool.org.
Erin Niemi
Reporter