Students gathered in Kingsmen Park for a non-traditional yoga practice that involved furry barnyard animals: goats.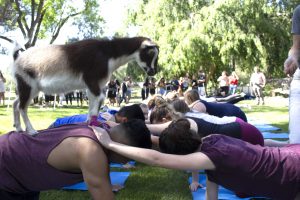 "I thought a fun event would be something to do with animals and making it kind of a de-stress day before finals week," Sophomore Programs Board Representative Azubah Collins said.
Certified yoga instructors from Hello Critter, an LA-based organization specializing in goat yoga, led students through various poses April 24. Nigerian Dwarf goats jumped off of, crawled under and roamed on top of students who participated. Hello Critter was founded by Michelle Tritten, who has kept goats since the 1980s, according to the company website.
During the sessions, four goats roamed around in a fenced area.
"I was surprisingly shocked by the turnout in the beginning, I think we had at least 50 or more students," Collins said. "Kona Ice was a big hit, especially because today was like a hot summer day."
Collins said she thinks what attracted students was they were not required to do yoga—they could just play with the goats if they wanted.
"It was exciting to see the students come together and be happy during a time when they are probably very stressed with finals coming up," Collins said.
ASCLU Programs Board Director Heather Hooker said this event has been an idea since April of last year but the planning did not begin until January.
"It is becoming a really big trend in general to see, so we should be utilizing companies like this more often on our campus," Hooker said. "It was really cool to see people engage in something we haven't necessarily had on campus before."
McKenna King
Reporter