Alexandra Fagerberg Finds Home on Cal Lutheran Soccer Field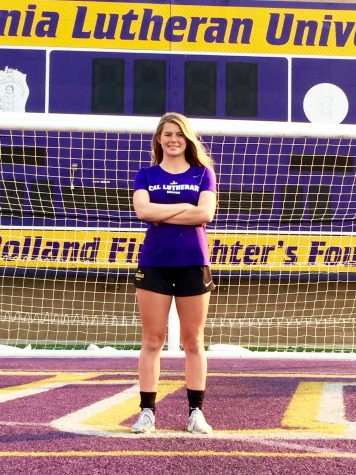 California Lutheran University junior Alexandra Fagerberg, an Austin, Texas native and forward for Regals soccer, has been a leading team member in recent games.
Fagerberg has had 34 shots, nine goals, and four assists so far this season. She has been a starting player in all 11 conference games and 15 games overall. During Fagerberg's sophomore season, she played in all 18 games and became a starting player in the 15th game.
Fagerberg started playing soccer when she was 3 years old because her whole family played the sport.
"I think my parents put us in soccer because we were a very energetic couple of kids,"  Fagerberg said.
Fagerberg  has three brothers and said they played a major role in making her the person she is today.
She graduated from Westlake High School in Austin in 2017, where she played three years of soccer and spent two years on cross country. 
Fagerberg played for several soccer clubs throughout her soccer career, including Austin United FC, Westlake Youth Soccer Association, Lonestar Soccer Club, Houston Dynamo and the Austin Sting Soccer Club.
"I love playing soccer because of the camaraderie and the friendships that you make," Fagerberg said.
She described it as a "beautiful sport" because it is a game that keeps you quick on your feet and thinking on your toes.
"It [soccer] makes her extremely happy, and she does everything she possibly can to improve physically and mentally," said Fagerberg's roommate, junior Olivia Kemp.
Fagerberg's roommates see her passion for soccer and the dedication she has for the sport.
"Every game she fights to gain possession and to get good ball movement between herself and her teammates. Although she has some rough days, as everyone does, she always pushes herself to do the best she can do," Fagerberg's roommate and junior Whitney Brown said. 
Fagerberg is majoring in economics with a minor in mathematics. She plans to continue her education in graduate school to receive a Master of Business Administration or go to law school.
"I could see myself being a lawyer or owning my own business," Fagerberg said.
Brown said Fagerberg is someone who can always make you smile.
"Alexandra is nothing less than a joy to be around. She is full of life and constantly radiates happiness—she is extremely kind and caring, and always puts others first no matter what," Kemp said.
Fagerberg attends church every Sunday and the Young Adults group at Calvary Community Church in Westlake, CA on Thursdays. She is also a member of the Fellowship of Christian Athletes. According to her roommates, she loves to hang out with her friends, go hiking, go to the beach and go on unplanned adventures.
Fagerberg came to Cal Lutheran to play soccer.
"As the past few years have gone on, I have definitely increased my confidence as a player, my speed of play, my technical ability and my general soccer intelligence has improved," Fagerberg said.
However, Fagerberg said she does not plan on continuing soccer after college. Her ultimate goal is to travel the world.
She will take the first step toward this goal next spring when studying abroad in Salamanca, Spain.
"I would just like to thank God for everything that he has given me, and I am forever thankful for his grace and patience," Fagerberg said.