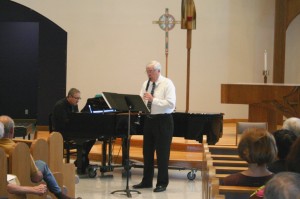 The CLU faculty chamber concert was an event for all ages this past Sunday in Samuelson Chapel. Performers Daniel Geeting on the clarinet, Eric Kinsley on the piano, and Joyce Geeting on the cello played three short contemporary French pieces that grabbed the audiences' attention.
The three musicians preformed pieces of classical music that were nothing short of masterpieces, including Johannes Brahms' "Trio for clarinet, cello and piano," Carl Maria von Weber's "Duo Concertant" and Donald Erb's "Woody," a clarinet solo.
"I like faculty member concerts because you get to experience a performance side of him or her you may not have seen before and realize why they are where they are," said senior Pat Knox. "Dr. Kinsley's achievements are a testament to how good a teacher and musician he is and makes what he has to say so valuable to me."
Daniel Geeting, a music professor and the symphony conductor at CLU, comes from a strong musical background.
"I am a clarinet player. I have been all my life," said Geeting.
Geeting is educated in music, with a doctorate in music arts from the University of Oregon and a wall full of accomplishments to show for it. Some of his accomplishments include playing for motion picture soundtracks and television shows, as well as recordings by British composer Gordon Jacob in 1995. This was Geeting's 29th faculty chamber concert.
"Since I've been in college I've done one every year," said Geeting. "It's just what musicians do, is give concerts."
Joyce Geeting, his wife, is also a faculty member at CLU and performed on the cello during Sunday's concert. In addition to the faculty chamber concert, Joyce Geeting has performed both as a chamber musician and a solo cellist all over the world. She earned her doctorate from the University of Oregon and has also achieved world-renown as a cellist.
Kinsley, a piano teacher at CLU, is the third of the selected trio who performed in Sunday's concert, performing on the piano.
"It's a blast to play with great faculty. I just think it is good for students to see the whole process from start to finish," said Kinsley.
Though Kinsley had not always planned to study music, his mind was changed when he played the harpsichord for the first time and fell in love. From there it fueled his motivation to attend the Manhattan School of Music where he earned a doctorate. Since then he has performed all over the world and has written a book on the chamber music of Carl Philipp Emanuel Bach, which will be released next year.
Because of the music that was chosen for this concert, Kinsley and Daniel and Joyce Geeting were all chosen specifically for their musical abilities and world-wide experience that fit perfectly into the works performed.
Although this hour-long concert was free of charge to those who attended, donations were accepted that directly benefit the CLU music department.
Kristin Cameron
Staff Writer
Published On Oct. 3, 2012