Strong second half leads Regals to victory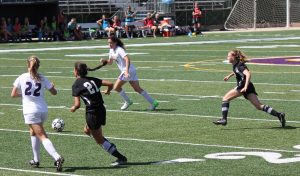 The Regals soccer team continued to dominate SCIAC competition on Saturday by defeating Chapman University 1-0 at William Rolland Stadium.
The victory brought CLU to a 9-2 overall record and 6-0 in conference. Due to injuries, senior captains Kristin Cameron and Kirsten DiPippo were both inactive, giving the Regals a different look to start the game. But it was junior forward Kristina Hulse who led the Regals in the first half of play. She provided all the energy, taking multiple shots on goal and hustling everyone for loose balls.
Despite that, no goals were scored in the first half. But, this was not an issue for the Regals head coach, Frank Marino.
"We knew if we could wear them down we could probably get a goal in the second half and that's what we did," said Marino.
The Regals dominated ball possession all second half, finishing with 18 shots to Chapman's four along with ten corner kicks to the Panther's one.
These opportunities finally paid off in the 67th minute off the foot of sophomore forward Taylor Will.
She broke free of the crowd, made a move past the last line of defense and fired it into the back of the net for her sixth goal of the season.
"We had a really good possession going. One-on-ones are key in these games and I took advantage of that opportunity," said Will.
Will leads California Lutheran University in goals this season.
"For us it was a matter of having some younger players step up in the game with our two senior captains missing and they did a great job," said Marino.
One of those missing captains was senior Kristin Cameron who suffered a leg injury last week and is waiting on the results of an MRI for possible damage to her LCL.
Cameron had to medical redshirt last season because of tears to her ACL, MCL, medial and lateral meniscus, as well as her patellar tendon.
In spite of this, Cameron remains hopeful.
"I'm still the captain along with Kirsten (DiPippo) and Nicole Rains. I'm still at every practice and game. Nothing is going to change," said Cameron.
Dating back to last season, the Regals recorded 18 straight SCIAC wins.
The difficulty of the conference is keeping the coaches and players humble and also confident.
"Everyone in our league is good and we've had some good competition. It comes down to getting multiple opportunities to score and capitalizing on them," said Will.
"We need to keep grinding games out and finding ways to win," said Marino. "This conference is tough. For us, it's going to be a long season, but I think if we can keep building on each game, we're going to be okay at the end."
The Regals will be visiting the Athenas of Claremont-Mudd-Scripps today at 4 p.m.
Craig Jacobson
Staff Writer
Published On Oct. 3, 2012