CLU Alumna Writes and Produces New Web Series Exploring College Relationships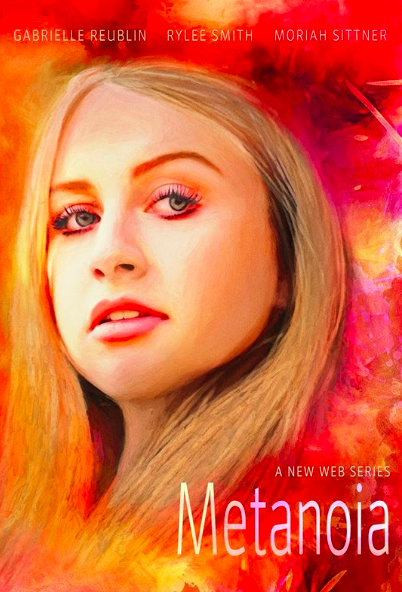 California Lutheran University Alumna Gabrielle Reublin's new web series exploring how the college experience shapes one's personal and sexual identity will be released on Vimeo and YouTube in June.
Metanoia was produced by both current Cal Lutheran students and professional crew members, and features appearances by current Cal Lutheran students. 
The project began Reublin's senior year in her cinema production class where she took a script she wrote her freshman year and gave it new life.
"We all had to write and start a script and pitch it and a few could be chosen to be produced," Reublin said. "I thought, should I use this idea I had before?  I always wanted to make something but I was scared to really tell this story. I decided to use that script that I made before, revisit it and submit that pitch so that got chosen to be produced and that's how it all started." 
Reublin plays the main role as Emma, a junior in college trying to figure out her sexual identity after her boyfriend transfers schools and ends their relationship. 
This is the first time that she is single and is still trying to figure out herself. When she meets Brynn–played by Cal Lutheran Theatre major Moriah Sittner–Emma is forced to revisit her sexual identity. 
Sittner's character Brynn is very open, outgoing and proud of her LGBTQ identity which is something Emma envies. 
"[The character] is something that's a bit of a challenge for me because just that mindset is so different to how I think of just like I'm not gonna care what anybody thinks, I'm going to wear black eyeliner all over my eyes," Sittner said. 
Jannell De la Nuez is a senior Communication, Film and TV major and works as the cinematographer for the web series. 
De la Nuez thought she prefered editing, but once she got behind the camera she instantly loved it because it allowed her to be even more creative.
Reublin knew De la Nuez was a great fit for her project. "I am thankful that Gabby thought about me when looking for a cinematographer to shoot her episodes because if that didn't happen I wouldn't have gotten the experience that I do now," De la Nuez said.
Sittner, Reublin, and De la Nuez all said it was a bit of a challenge meeting with everyone because all the crewmembers had different schedules and as theatre majors, some of the castmates are busy preparing for plays. Sometimes their work 'day' would include filming until 2 a.m. 
The full Cal Lutheran cast and crew members includes Reublin, Sittner, Rylee Smith, Sacaiah Shaw, De la Nuez, Kyle Tamkin, Jacob White, and Kristen Case. 
Reublin is excited to release Metanoia, and hopes it offers diverse representation of the various identities of college students.
"[I hope] that people can resonate with even if they're not someone who's going through a discovery of their own sexuality. It could be anything just personal identity in general," Reublin said.