Growing Love Events: Cal Lutheran alum plans pandemic weddings
California Lutheran University class of 2016 alumna Megan Dickey started Growing Love Events, a small wedding planning company, in the summer of 2019.
In an email interview, Dickey said she started the business because she "had a lot of fun planning [her] own wedding and [loved] helping couples plan their dream day."
COVID-19, however, changed the way couples get hitched.
According to an article by The Washington Post, a 65-person wedding in rural Maine has been traced to "more than 175 reported novel coronavirus infections and also to the deaths of seven people," the Maine Center for Disease Control and Prevention said Tuesday Sept. 15.
Dickey said many couples have opted for "a small ceremony or [even] rescheduled to next year."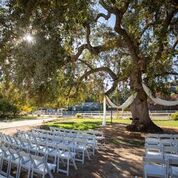 The social distancing measures implemented by state and local governments aimed at slowing the spread of the virus have posed financial challenges for some small businesses.
While some large-scale corporations may be able to survive these closures, other "industries are hit harder," Executive Director of California Lutheran Career Services, Cindy Lewis, said in an email interview.
In order to comply with health safety guidelines, Lewis said that she has seen "many business owners are purchasing plexiglass, taping the floors where people should stand, mandating masks and social distancing. The main change [she's] seen is more remote jobs."
For a "month or two" there was a total halt in weddings, Dickey said.
Now, she is working to help couples adapt their ceremonies. "Restrictions are completely up to the couple," she said.

In a phone interview, Growing Love Events client Ashley Dahl said despite having to downsize her wedding, "[Dickey] has a lot of good suggestions even in this sort of situation that no one could have predicted."
Dahl said she and her fiance wanted to keep their original wedding date and Dickey was flexible and ready to help facilitate downsizing the event, on top of planning a larger wedding in the future.
"She has been really flexible with everything and just willing to work through everything with us," Dahl said. "[We are postponing] a larger event to hopefully next year, but we don't know if that's gonna happen. […] So it's just like downsizing and planning two events instead of one now."
Dahl said that she found the business because she went to high school with Dickey and appreciated how "Megan is really flexible."
Even in the midst of the COVID-19 pandemic, Dickey hopes to "be consecutively planning events throughout the year" and make Growing Love Events into "a full-time job."