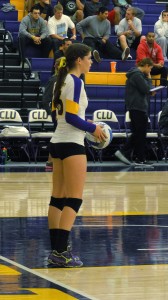 The CLU Regals beat the Pomona-Pitzer Sagehens in a quick three game match in the Gilbert Sports Arena.
The Regals took care of business on and off the court, Tuesday, Oct. 9, with a energetic bench cheering for their teammates, while the players on the court slammed the ball.
The Regals looked like a brand new team since their devastating loss against Chapman the previous week.
The chemistry was perfect and it led to a 25-16, 25-17 and 25-15 victory.
"The chemistry on the court against Pomona felt a bit more comfortable and relaxed, and I think it was that way because we stepped on the court with a little bit of a chip on our shoulders, confidence and focused more on our side of the net," said freshman right-side hitter Pua Mo'okini-Oliveira.
Mo'okini-Oliveira earned a well deserved 10 kills with her vicious left-handed spike.
Sophomore outside hitter Hannah Orlandi also felt the enthusiasm from her teammates.
"The energy in that game was really great and everyone was just pulling in the same direction, making it easy to get a lead and build momentum," said Orlandi.
Orlandi landed her three huge kills at perfect moments for the Regals, securing their lead ahead of the Sagehens.
"I am feeling more confident on the court. It really helps when you have great teammates supporting you and are always there to pick you up when you're down. I couldn't ask for a better team," said Orlandi.
Sophomore setter Jena Chavez stepped up to the plate offensively and defensively to help defeat the Sagehens.
Chavez earned 40 assists and 10 digs.
"There has been a gradual progression with the team and as long as we keep getting better, that's all we want. I'm still working as hard as I can to be the best that I can be for the team," said Chavez.
The Regals said they are a "scrappy" team and this is what helps them squish the competition.
"We are definitely a scrappy team. That's how we practice. No ball is too hard or impossible to get," said Chavez.
"It's about finding a way to win and we're fortunate to have a pretty athletic team and can trust whoever is out there to take care of business," said Mo'okini-Oliveira.
All of the girls played their part. What seemed like impossible balls to reach, hit, dig, save or set, the Regals were able reach.  The fans quickly learned that nothing is impossible for the volleyball team.
The Regals are now 18-4 overall, and are 9-1 in SCIAC play.
Come out and support your favorite women's volleyball team this Sat., Oct. 27, as they take on the UC Santa Cruz Slugs at 1 p.m. in the Gilbert Sports Arena.
Brina Clark
Staff Writer
Published Oct. 17, 2012