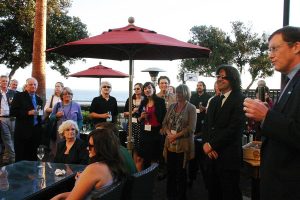 CLU welcomed artists, critics and students at the Ventura Crowne Plaza for an intriguing night filled with representational art and passionate speakers.
This event, TRAC 2012: The Representational Art Conference, was a three day long event that started Sunday and ended Wednesday.
The paintings of the many artists were displayed throughout the Crowne Plaza, some of which were done by California Lutheran University students.
"I feel very honored to be a part of something so special," said senior Nicole Tracy.
Tracy composed a portrait of Hüicho, a senior in the previous year.  This was part of an assignment in one of her classes.
Sunday served as opening day for the TRAC conference, with the CLU president's welcoming reception at 5:30 p.m. CLU's jazz band played on the outside patio alongside wine refreshments and there were a few opening speeches by Michael Pearce and CLU President Chris Kimball.
Art department chair Michael Pearce organized the conference due to the lack of appreciation of representational art.
"There are a large number of excellent artists who produce beautiful work, and aren't getting enough credit," said Pearce.
Pearce explained that art has been left out of the world of academic study, and that people are not paying enough attention to what is going on.
He believes this is a prominent problem happening in the 21st century.
Pearce cited the amazing talents as the most exciting aspect of the conference.
"I am most excited about being able to meet all the amazing and talented artists.  There are artists here that I have admired for a long period of time, and to have them here in the same place is quite thrilling," said Pearce.  "It's really exciting to see the artists that have written the books that I have had on my shelf for about 10 years walk into the same conference as me."
The TRAC Conference was not a how-to seminar, but focused on why these works of art are produced.
The artists came to talk about what drives them to make their paintings the way they are.
One of many artists who were present was David Kassan, a teacher at the Art Students League in New York, who is most widely known for his life-size realist portraits.
"I love these conferences because I get to hang out with my favorite painters and friends, and I get to pick their brains about what makes them tick as artists," said Kasaan.
He also noted that he hoped that this conference will open up an intelligent discourse on what artists like himself choose to paint, and the reasons behind it.
He hoped to leave inspired, and inspire others as well.
Kasaan has just been named among the Top 25 Great Artists of Tomorrow by American Artist magazine, along with artist Jeremy Lipking, who was also present at the TRAC conference.
In addition to the presentations and displays, studio art demonstrations were presented by artists such as Béla Bacsi on sculpting, Lipking on figure painting and Mia Tavonatti on mosaics.
During a Ventura Limoncello tasting event, Kasaan will also be giving a demonstration.
International academics from Australia, Iran and Nigeria presented papers during the three-day conference. Simultaneously, exhibits and presentations were held in CLU's Kwan Fong Gallery of Art.
The TRAC conference strives for their mission to have people leave the conference inspired to go and learn more about the importance of art and the deeper meaning behind artwork.
Lizzie Lopez
Staff Writer
Published Oct. 17, 2012