Annual Latino fiesta brings food, fun and "loteria"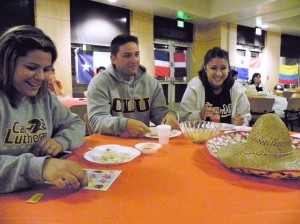 As CLU celebrated Hispanic Heritage month from Sept. 15 through Oct. 15, clubs such as MEChA and LASO hosted various cultural events on campus. One such event was last Wednesday's annual Fiesta celebration.
Put on by the Latin American Student Organization (LASO) with the help of the Movimento Estudiantil Chicano de Aztl án (MEChA,) the California Lutheran University community gathered at the celebration to enjoy traditional Latino dishes, music and games.
During the Fiesta event games such as loteria were played. Loteria is a card game similar to Bingo that is very popular among Hispanic families.
"Playing loteria brought me back to when my family and I would gather after dinner and play," said sophomore Flavio Guzman. "It's nice to be a part of the Hispanic community at CLU and be able to share my traditions with everyone else."
Guzman is an active member of MEChA.
According to statistics given at the event, there are 47 million Hispanics in the world, of which 50 percent reside in the United States and make up the largest minority group after African-Americans.
"I think it's important to acknowledge and embrace each other's cultures and pay homage to everyone's country, no matter how big or small," said senior Jackie Avena.
During the event, a video entitled "Flags of South America" was presented, which featured each country of Latin America to help guests understand which countries belonged to which flag and who their presidents are.
Guests attending the event also had a chance to make their own flag. The most artistic flag won a prize.
Some of the appetizers included different types of cheese, ham and salami, demonstrating the European background and influence of many of the countries.
Dishes included pozole, a popular Mexican dish, pupusas from El Salvadore, and tusana, a drink that has different tropical fruits from Venezuela.
Daniel Lawrence, coordinator of Multicultural Programs at CLU and advisor for LASO, feels it is important that the diversity on campus is acknowledged.
Lawrence says it opens windows for other cultures to be seen and heard and it encourages others to learn and participate.
"My role as an advisor is to guide them and train them," said Lawrence. "There are things such as leadership retreats where we follow up with previous plans and put them to work. I also train them to have good communication skills and to make sure everyone knows the same thing."
LASO President Maria Gomez spoke about the importance of showing the CLU community how diverse Hispanics are.
"For the most part, when someone hears the term Hispanic or Latino right away they think Mexican or Central American and that's not the case. We are a lot more diverse than that," said Gomez. "The purpose of Encuentros week is not only to demonstrate the diversity in our culture, but to share it with the CLU community as well."
MEChA and LASO also hosted other events throughout the month and encouraged the CLU community to learn more about Hispanic traditions and customs.
Maria Castrejon
Staff Writer
Published Oct. 17, 2012