Tang Soo Do kicks its way onto CLU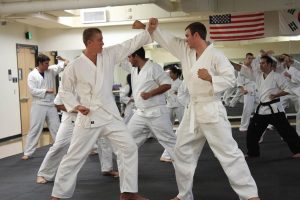 California Lutheran University recently added a new type of martial arts to its course catalogue, Tang Soo Do.
Seth Wagerman, the head instructor of the Tang Soo Do class and assistant professor of psychology on CLU's campus, began practicting Tang Soo Do at the age of 12.
Wagerman described his introduction to Tang Soo Do as "fortuitous."
His friend won free martial arts lessons from a studio run by Chuck Norris, but she did not want them.
"I was a clumsy kid, not graceful, and really small. I didn't feel capable," said Wagerman.
His friend then gave him the free lessons.
"Then I was hooked. It became a part of our life," said Wagerman.
Tang Soo Do is a South Korean martial art that has roots in martial arts such as taekkyeon, Subak and Shotokan.
The name Tang Soo Do translates to "the way of the Chinese hand."
Dr. Wagerman has also trained in Tai Kwon Do, Shotokan and Kanzen Budo Kai.
He has been teaching martial arts since age 15, and taught while earning his undergraduate degree.
He has also taught self-defense at "Take Back the Night," a CLU sponsored program.
Ever since Wagerman began teaching psychology at CLU five years ago, he wanted to begin a martial arts class, but he ran into several concerns like the possibility of injuries and equipment costs.
"It was about finding the right time," said Wagerman. "Now is that right time."
This is the first semester that this class is being offered.
Most of the students in the class are beginners.
"I chose this class because it's the first martial arts class at CLU and I wanted to be a part of that," said Ruben Hernandez.
Hernandez recommends the class to fellow students.
"People should take this class because it's different," said Hernandez. "It challenges you in many ways that if you have never taken a martial arts class you wouldn't know."
Paolo DaSilva, a third degree black belt in Tang Soo Do, is also taking the class.
DaSilva received his black belt, but had stopped training before high school.
"I wanted to reconnect with it," said DaSilva.
"When they offered Tang Soo Do, I really saw that as an opportunity to jump back into it," he said. Wagerman stressed that anyone can join his class.
"[Students should join] if you want to get fit, strong, flexible, quick, defend yourself, learn the beautiful art of Tang Soo Do, get confidence, discipline, fulfill a requirement or all the above," said Wagerman.
At the end of the semester, a student can test to move up a belt level.
"My goal is to have students leave CLU with a bachelors degree and a black belt," said Wagerman. He even joked about calling the group his "brilliant ninjas."
The class is being offered Mondays and Wednesdays from 11:30 a.m. to 12:45 p.m. in the dance studio on the second floor of the Gilbert Sports and Fitness Center.
There is also a Martial Arts Club that meets on Fridays at the same time.
Gurpreet Sahan, the Martial Arts Club president, is currently a third degree black belt in Tang Soo Do.
Sahan urges people who are curious about it to come in on Friday and check it out.
"If you even have the thought in your head that, 'Hey, this would be fun,' give it a try, it wouldn't hurt," said Sahan. "There's only one way to find out."
Elessandria Smith
Staff Writer
Published Oct. 17, 2012