Home sweet home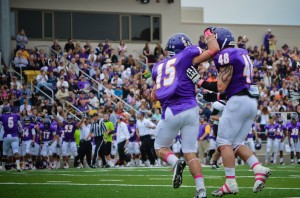 An overcast Homecoming weekend at William Rolland Stadium Saturday afternoon clouded Occidental's attempt at victory, while CLU's  power-packed squad dominated the Tigers by 49 points.
CLU football alumni were recognized for their success during their Kingsmen campaigns.  Appearances by late football greats such as Karsten "The Candy Man" Lundring brought determination to current players who have also had success in the California Lutheran University uniform.
The offense wasted no time digging deep into their playbook and using every viable option to score. A double reverse pitched to Romello Goodman and flipped back to Eric Rogers set the tone for the offensive scheme. The double reverse was just the beginning of a thunderous offensive day for CLU.
The Kingsmen offense struck several times, totaling up 664 yards of offense.
With an injury to senior quarterback Kevin Ramay, the Kingsmen looked to Zach Shultis to keep the nationally ranked squad on point.
The second string quarterback completed 21 of 25 passes for 368 yards through the air.  He also tallied five touchdown passes on the day.
Head coach Ben McEnroe praised Shultis' efforts against the Occidental defense.
"You always prepare as if you're the starter," said McEnroe. "Zach has exemplified that as far as his preparations. When he got his opportunity, he won the Redlands game. He put the team on his back and we didn't miss a beat. He has played well and today he was all over it."
Rogers dipped his pen into the record books once again, breaking the all-time reception record of 177 by four catches. Rogers' 181 total receptions during his collegiate career will only continue to increase as the season progresses. Rogers brought in eight catches on 120 yards that led to two touchdowns on the day.
The wide out attributed his success to the people who have guided him to greatness throughout his journey as a Kingsmen.
"A lot of the older guys helped me out when I was a freshman and sophomore and showed me the way," said Rogers. "The line has to block, the quarterback has to be able to throw the ball, and the coaches have to believe in me in order for me to make plays."
Rogers also expressed his gratitude for the electric atmosphere provided by a rambunctious Homecoming crowd.
"The crowd definitely helped out. We even had a lot of guys on the visitors side too. Overall, it was a good day," said Rogers.
McEnroe praised the veteran receiver and expressed what Rogers means to the Kingsmen scoring arsenal.
"It's been fun to watch his growth in the program," said McEnroe. "He got here as a 6'3", 180-pound noodle-looking guy and now he is an NFL prospect. You take a lot of pride in developing players and watching guys grow and get better."
Goodman put together another solid performance, tallying up a total of 156 all-purpose  yards with one touchdown on the day. The swift-footed freshman made the Tiger defense look like a circus by juking six players on a screen pass in the second quarter, which led to an Alix Moise Jr. touchdown reception.
Vincent Minor proved to be a usual threat for the Kingsmen on special teams. It was confusing why Occidental kept punting him the because every one of his punt returns went for an exceptional gain. His combined punt and kick returns earned him a total of 136 yards on the day.
"The way [Minor] flips field position for us is great," said McEnroe. "We felt like we could have gone after their punt team a couple times with blocks, but why mess with it when you have a guy back there that can take it for 50 yards any time he touches [the ball]?"
Frankie Jones and Donald Senegal also chipped into the scoring. Both receivers caught a fade pass in each corners of the end zone.
While the offense did their job, the defense backed them up tremendously.
The Kingsmen defense held the talented Occidental offense to a slim seven points.
The defense was led by senior safety Tim Cozine. His six tackles on the day set the pace for a solid outing by the rest of his teammates.
"As a defense we had to get better at stopping the run," said Cozine. "We focused all week on fixing our schemes. As a secondary, we knew there was going to be a lot of pressure on us to lock them down on the back end so the front could get enough pressure. We improved this week."
Cozine attributed the one Occidental touchdown to minor errors that were adjusted directly after the score.
"We just had to settle in. Homecoming brought a big crowd and a big atmosphere. Once we focused in, we locked them down and just did what we do," said Cozine.
The Kingsmen will travel to play Whittier this Saturday at 3 p.m.
Nicho DellaValle
Staff Writer
Published Oct. 24, 2012