Hungry? There's an app for that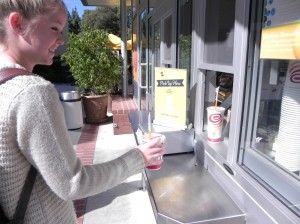 Tapingo, an application recently adopted by CLU, provides students an easier and faster way to grab food on the go.
Available for Android and Apples iOS, Tapingo allows students to order and pay for food from Purple People Eater, the Centrum Café and Jamba Juice, from their smartphones. The app accepts bonus points, credit cards and Paypal.
Mickey Katz, the director of campus marketing for Tapingo, said the application was developed with students in mind.
"We understand how busy their lives are," said Katz. "We are working for them and our objective is to make them happy."
Downloading and using Tapingo is 100 percent free.
"We want to stress that this is something free to the students," said Katz.
Students have taken a liking to the application.
"It works really well with them and that is the main concern," said Martin Finfrock, director of food services at CLU.
"It's just faster," said sophomore Sean Schroeder. "If you have a small gap or small window between classes, it is easier to do because you can pick up your food right away."
Schroeder said he was able to order food from the comfort of his dorm room and was able to pick it up at the Centrum without waiting in line.
"From one side, our purpose is to save students time," said Katz. "It allows the students to prioritize and make sure they get a good meal."
Katz also said the application benefits the restaurants and schools that use it by helping to find out what their consumers really want.
"We have the unique ability of providing university restaurants with a robust dashboard," said Katz.
Finfrock said that the process of getting the Tapingo system to work with the school system has been tough, but it is worth it because the students really like it.
"It's not really the most convenient item for us, but the system is so great and so easy to use. As it evolves it will get better and stronger," said Finfrock. "Cal Lutheran has always partnered with Sodexo to stay on the cutting edge."
Parker Stone said he has used the app about five times and it is very consistent.
"It's pretty cool. I mean, it's very convenient if you're on the go," said Stone.
He also said Tapingo makes it easier to order food at later times of the day, such as after football practice ends.
To increase security there is an option for students to create a unique pin number that must be entered in before making any transactions with the credit card on file.
"We take the safety and the privacy of our customers very seriously," said Katz.
Finfrock said a main reason the school chose Tapingo is because of the security.
"Tapingo has all of the necessary security measures and necessary items to make sure that paying online is secure," said Finfrock.
The goal is to get the app to work with all of the restaurants on campus, including the new dining commons when it is finished, said Finfrock.
There is also interest in getting a delivery service in the future.
Heather Ford
Staff Writer
Published Oct. 24, 2012