Earthquake drill puts CLU Alert to the test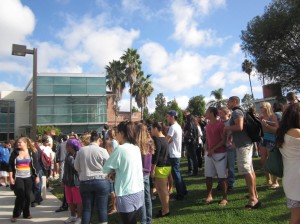 Students faced were interrupted during their classes last Thursday due to CLU's campus-wide fire drill.
The drill, which occurred around 10 a.m., caused students and faculty to pour out of their buildings and into assigned waiting areas.
It lasted about 20 minutes.
"It went how I thought it would go. Areas that are crowded were crowded," said Director of Campus Safety Fred Miller. "We did find out that teachers know where to go with their students."
California Lutheran University's Oxnard campus also hosted a fire drill on the same day.
The Woodland Hills Campus was excluded.
CLU was not only testing the ability to evacuate as a whole, but also the emergency messaging system.
The alert system originally excluded 3,500 students who had yet to update, and now excluding 800. The  increase in participants came after "CLU ALERT" was brought to the opening page of Blackboard.
The system starts with a text from the CLU alert system. The text is a short summary of the emergency taking place on campus.
If a student does not respond to the text message, an e-mail is sent to the student's listed accounts.
Students can also expect a phone call informing them of the events on campus.
"I thought it went very well. I received all of the messages and phone calls.
At the time they seemed excessive, but in an emergency those messages would be vital," said Alexa Jordan, a senior who was in an advertising class when the alarm went off.
The main focus of these drills is to determine how ready we are for an actual emergency.
"It's a difficult question, we never know for sure," said Miller. "We prepare for what we expect. We have the equipment and supplies to deal with earthquakes and fires."
Miller recommends each student keep a three-day emergency supply kit and keep their gas tank more than half full.
He also recommends that each student takes the time to update his or her information in the alert system.
Miller believes that though preparedness is important.
The last major earthquake was in 1994 and CLU has no recorded major fire, only small brush fires in the surrounding area.
Britney Zamora
Staff Writer
Published Oct. 24, 2012