Little Calf celebrates five years of serving scoops and smiles
Little Calf Creamery and Cafe celebrated their five year anniversary this October. Located less than three miles from California Lutheran University's main campus, Little Calf serves homemade ice cream, sandwiches, salads, burgers, and many other sweet treats. It's become a staple in the Cal Lutheran community. 
Little Calf Owner Scott Levin was in the restaurant industry for 37 years, and after closing his last project, he wanted to try out something new. 

"My wife grew up in New York and diner culture is very big there. I'm from the Midwest originally but grew up in San Diego," Levin said in a phone interview. "We wanted to have a place that was kind of like an updated California version of an east coast diner, so that's how Little Calf kind of started." 
The couple decided their specialty would be homemade ice cream, a dessert that would bring people of all ages together. 
"We have passion for making ice cream which started with my wife and then got thrust upon me which has been a good thing," Levin said. "Creating the concept was how do we use this diner notion and ice cream together, to create something new and different that would resonate with the community, create a local space where people could enjoy and also congregate."
Levin's plan was a hit within the city of Thousand Oaks, from the very beginning the community welcomed Little Calf with open arms. Soon, the restaurant became a hang out spot for Cal Lutheran students. 
"From my understanding, students love it because it's a nice place to go for a treat and it's a bit away from campus," Levin said. 
In order to celebrate Cal Lutheran's involvement with the restaurant, Little Calf created the flavor Cal Moo: taro and honey to represent the university's purple and gold colors. 
"Creating the flavor Cal Moo was our way of embracing, giving back and showing connection to Cal Lu as well,"  Levin said. "Cal Moo is probably our most popular seasonal ice cream, people love it." 
Different, unique ice cream flavors are released every month along with dairy free, gluten free, nut free, and vegan options. Manager Ashley Damrau said in an email interview Little Calf stands out because they are one of the only places in Thousand Oaks that makes homemade ice cream. 
"What also makes our restaurant unique is how our boss loves to create new menu items and our different kinds of ice cream flavors such as cranberry orange sorbet, lemon basil sorbet, taro and honey sorbet to name a few," Damrau said. "Our boss isn't scared to step out of the box with his ice cream and it has paid off because everyone seems to love them."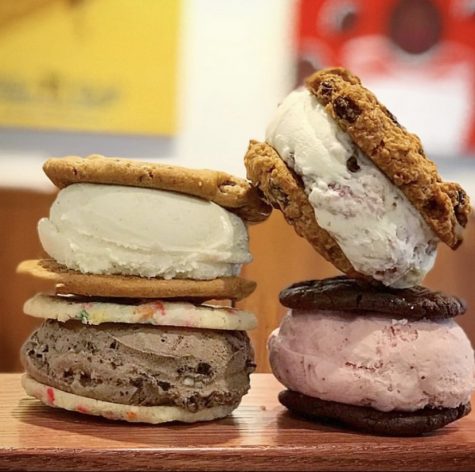 Little Calf prides itself in being a place where people are able to come together and bond over food and ice cream.
"At the bottom of our logo it says 'family, food, and friends'. 'Food' is in the middle and it's surrounded by 'family' [and] 'friends', and it's the one thing that brings those two pieces together," Levin said. "That's how people in Thousand Oaks have used the space and have come to know Little Calf." 
Damrau, who has worked at the ice cream shop for almost five years, said that her favorite thing about working at Little Calf is her employees' ability to work well together and its positive impact on the customers. 
"Creating a happy and positive environment also makes it better for the customers," Damraru said. "Even seeing the regular customers is great because you are able to create friendships with them as well. I've come to enjoy customer service because it is a great pay off when customers are happy." 
Levin said being a small business means giving back to the community is a two way street. 
"It's not just producing a product and selling it and giving it back. We provide employment for the local community," Levin said. "We also give back in a major way through our fundraising nights, through schools, our support of the community and of the university so it's give and take." 
When small businesses began to close doors due to COVID-19, that two way street did not diverge.  
"When COVID hit, two of our regular customers made masks for us, my staff," Levin said.  "I can't remember another business where that connection is that strong people go out of their way to make sure that we are okay and to help us."

In return, Little Calf gave back to that same community. 
"When the pandemic first started we would donate meals to hospitals," Damrau adds. "Even though we are a family business many people of all different ages enjoy our restaurant. I love how we are able to create a fun environment for everyone to just enjoy some food and ice cream." 
It's this relationship between the customers and the employees that creates a never ending support system.
"That's the beauty of owning a small business," Levin said. 
Back in January, Levin and his wife decided their customer base was supportive enough to open up a second shop in Westlake Village.
"We chose specifically a smaller space in Westlake. We are not doing food, we call it the Scoop Shop, we are strictly doing our ice cream," Levin said.  
Some of the desserts that are served at the Scoop Shop will be pies, brownies, custom birthday cakes, and of course, ice cream.  The location was open for a month before COVID-19 called for shutdowns. It is now open daily from noon to 9 p.m.  
"Our first full month in February was pretty amazing actually, it started to take off so we were really excited about it and then COVID hit and kind of put the brake on things," Levin said.  
Little Calf Creamery and Cafe is located only five minutes from the Cal Lutheran main campus at 652 E Janss Road and is open from 11 a.m. to 9 p.m.