Students realize the challenges of living with a disability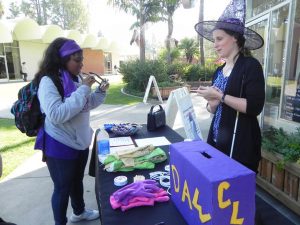 During Disability Awareness Week (DAW) 2012, various activities were hosted by the Center for Academic and Accessibility Resources (CAAR) office. Other clubs on campus and members of the community joined the CAAR office in coordinating these events.
From Oct. 30 through Nov. 1, DAW held events to help those who participated understand what it is like to live with disabilities.
"We had different things this year to keep things interesting and see who else wants to get involved," said Wendy Perkins, coordinator for Accessibility Resource Programs, one of the main programs in the CAAR office.
On Tuesday, Oct. 30, Perkins and Guide Dogs for the Blind gathered together eight freshman seminar classes and combined them into three groups. Three presentations were given on blindness. Participants were able to interact with the dogs and experience for themselves the hard work and dedication that goes into training guide dogs.
Perkins could reach out to more students than she would have if she had done the presentation without the help of Guide Dogs for the Blind.
According to Perkins, the Food Challenge was the only event that did not change from last year. The other events were new to DAW. They were created to raise awareness and supply hands-on participation, rather than just information about different physical impediments.
MYLife, a club on campus, hosted an event in which students were challenged to read like they had dyslexia, wear earplugs and try to read someone's lips, use a wheelchair to go up the ramp near Nygreen Hall and wear gloves to open candy and button a shirt.
These activities gave students an understanding of what it might be like if they had fine-motor-skill or nerve damage in their fingers.
"A lot of participants commented on how difficult it was to live with these disabilities," said Anissa Nguyen, co vice-president of MYLife. "It is often the things we take for granted."
Nguyen recalled a story about a close friend who was asked for directions by a blind person. She didn't know how to describe which way to get there, so she simply said she was in a hurry and had to go to class.
"She felt really bad because she wanted to help but she simply did not know how and didn't want to get the person lost," said Nguyen.
On Wednesday, Oct. 31, Accessibility Resource Programs hosted an event at the Centrum called Food Challenge. Students had to eat their meals either with two fingers tied together, placing their dominant hand behind their back, or while blindfolded.
Senior Ana-Elia Perez chose to eat with her dominant hand behind her back.
"It was harder than I thought," said Perez. "I have a new-found respect for people that fight on every day despite their disabilities."
On Thursday, Nov. 1, the Community Service Center held awareness activities at the flagpole.
"We had a great turn out this year," said Perkins. "Mainly because this year there were a lot more clubs on campus that got involved during DAW. Mainly these events are held because we find that people still don't understand what it is like to have a disability."
Perkins believes that by better understanding another person's disabilities, the community will then know how to help and can better contribute to making the world a tolerant and safe place for people with disabilities.
Maria Castrejon
Staff Writer
Published Nov. 7, 2012