CLU student Tamar Haddad aims to end the 'persecution of those who are different' in first book
California Lutheran University senior and author Tamar Haddad details the discrimination and injustice within Palestinian society and offers a means for making change in her new book, "The Future of Palestine: How Discrimination Hinders Change."
Haddad, born and raised in Jerusalem, attends Cal Lutheran as an Evangelical Lutheran Church of America International Women Leaders Scholar, a program which invests in "established and emerging women leaders." 
Haddad said in a Zoom interview that though she embraces a Palestinian perspective in the book, she wanted to be as objective as possible.
In her book she argues that open-mindedness can be an entry point for widespread change.
"It seriously all starts with us," Haddad said. "If I change my mindset about something then it will be easier for people around me to change their mindset as well."
The book begins with a detailed account of the devastating murder of her friend and classmate Israa Ghrayeb in 2019. Haddad writes that Ghrayeb's life was taken for posting a picture of herself with her fiancé.
Haddad uses this story to illuminate the gender, religion, race and sexual discrimination in Palestinian society. This discrimination time and time again results in wrongful persecution "due to extreme misinterpretation of religion's real message of universal love" Haddad states in "The Future of Palestine."
When Haddad first started the book she said it was mainly for Palestinians and Palestinians only. But after living in the U.S. for two years, Haddad said she realized there are people who have either no knowledge about Palestinian society at all or just have a very limited perspective.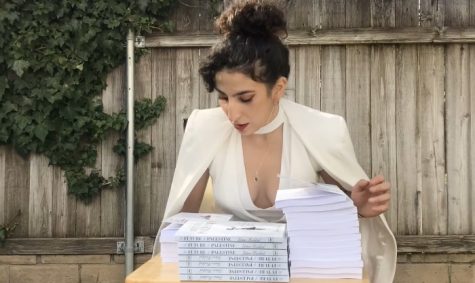 Haddad said she had plenty of support throughout the writing and editing process.
Rama Youssef, a junior political science major at Cal Lutheran who is originally from Syria, helped Haddad throughout the process and said she considers Haddad family.
"We had a lot of deep conversations about her book… and about society. I was definitely involved in that, especially when it comes to the Arab woman's struggle in the Middle East," Youssef said.
Sophomore Naomi Mbise, another close friend of Haddad, who is also an International Women Leaders Scholar, said she witnessed Haddad's hard work and leadership skills in balancing the editing process while also going to school and working part-time.
"Anyone who reads ["The Future of Palestine"] gets the chance to see exactly what the society is like, the type of discrimination they're facing and what the outside world perceives them as," Mbise said. "When someone is open-minded, they get to know more about those things, it can change your mentality and you can see what the society needs to do to see change."
Haddad received her degree in English and Literature from Bethlehem University and studied abroad in South Korea and Georgetown University in Washington, D.C.
Haddad's next project is to create a non-profit for Palestinian student leaders who have the potential to be high achieving in academics, similar to her, but may lack the resources to pursue international education. She was recently selected for Cal Lutheran's New Venture program, which gives entrepreneurs the opportunity to pursue a startup, which she will utilize to make her non-profit a reality.
You can follow @tamar_thefutureofpalestine on Instagram for updates about her journey as the author of "The Future of Palestine." The book is available on Amazon.
"The expectation of anyone who reads the book is for them to pay it forward," Haddad states in the introduction of her book. "Make at least one change, no matter how small, that positively impacts someone or your community. The end goal is to eliminate the discrimination and persecution of those who are different."