Adelante Comunidad Conejo helps support Conejo Valley Latinx students
Adelante Comunidad Conejo is a non-profit organization run in part by Latinas who aim to help address concerns from the Latino community and develop a voice in Conejo Valley Unified School District (CVUSD).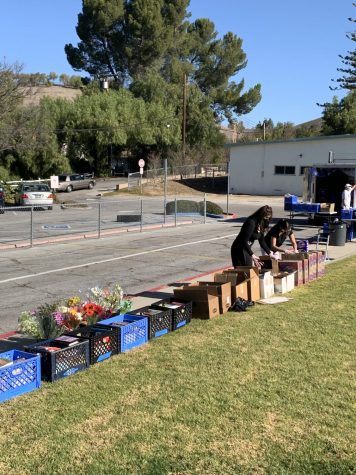 This non-profit was developed in 2018 from a concern Sandra Martinez, founding member of Adelante and teacher at Thousand Oaks High School, brought to the school district about Latino students' needs not being met. The school district needed a group of parents or organization that could speak on behalf of Latino students' concerns and stand behind Martinez's claims.
"Sandra can't do anything because she is an employee of the CVUSD. She needed the parents to do something and she asked me to fight to help these students and families and I decided to join the organization. I had the privilege to have them elect me as their president but it was because of Sandra Martinez," Lilian Teran, mother of Cal Lutheran student Lilian Teran Mendoza, and founding member and president of Adelante said in a Zoom interview.
Teran said she felt the need to help Latino families because she came from a Latino family that did not understand the importance of education. She said she has seen Latino families fall into similar thinking and said she wants to let them know she is an example of an educated Latina.
"We seen how so many Latino students are coming from countries and they don't speak English well, they feel alone and they don't have enough resources, so we decided we needed to create Adelante in order to advocate for these families and students," Teran said.
Martinez said in a Zoom interview that she was concerned prior to Adelante being formed that classes were becoming too big to give English language learners, also known as English language development students, proper focus.
She noticed a lot of first-generation students in her Spanish-speaking classes needed more tutoring and college and career guidance. The school also needed bilingual counselors to help translate for parents and more diversity among the teaching staff.
When Adelante was formed they started meeting with the school district monthly, bringing up these concerns and any other concerns the community had. When COVID-19 hit the community, they brought up concerns of food distribution and how to provide tutoring for remote learners.
"That's one of the things we're still working on, to make education more equitable for first generation students," Martinez said.
Adelante still found a way to stay involved during COVID-19 by distributing food to the families in need. Martinez said they turned into a pantry and food distribution center out of necessity. Some kids could not come and pick up their lunch because their parents were working or their parents couldn't drive. Through the permission of CVUSD, Adelante was able to distribute lunches to those kids.
"We created a food pantry because there were so many families that said do you have space where you can go and put food? They would say I need to eat something, can you open it and give me something?" Teran said.
Adelante connected with big distributors where they could buy rice and beans for the families. Some members used their Costco membership to buy groceries and give them out to families.
At first, they contributed from their own pockets to help the families in need, but as more families started to see what they were doing, more people wanted to help. Through this process, Adelante developed their website, started fundraising, and asked for donations on their social media and website. Adelante hired a resource coordinator who helped them apply for grants, too.
In a phone interview, Lynda Karl, co-vice president of Adelante, said they currently have food distribution events on Saturday mornings where they utilize the parking lot of two local elementary schools, with permission from the school district. They distribute basic necessities and food for the community. Martinez said a former student of hers worked at Pottery Barn, and when Pottery Barn  shut down they gave them sofas, sheets, decorations and more to distribute to families.
To find out more information on Adelante Comunidad Conejo, visit their website, email them at [email protected], follow them on Facebook @adelantecomunidadconejo or on Twitter @AdelanteConejo.
"We don't have to go through our situations by ourselves. We can find allies, there is always someone out there who can lend us a hand and we could do the same in return for others," Karl said.