The poetry culture claims its place on campus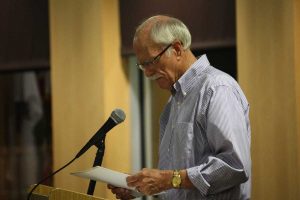 CLU professor J.T. Ledbetter invited students, faculty and the general public to listen to readings from his latest books of poetry at "An Evening of Poetry and Prose with J.T. Ledbetter."
Ledbetter read his works of poetry and fiction in the Lundring Events Center on Wednesday, Nov. 7.  The award-winning poems and stories from his new fiction collection  included "Death by Violin" and "Old and Lost Rivers."
Ledbetter taught at California Lutheran University for more than 30 years and still teaches part time.  He publishes works of poetry and writes anthologies, magazine articles and music. His poems and articles have appeared in more than 100 magazines and anthologies.
The Lundring Events Center had a large audience of both students and visitors.
While presenting his work, Ledbetter would casually stop to interact with the crowd.
"I thought it was entertaining and insightful.  I liked how Dr. Ledbetter took the time to answer questions and explain his writing process," said junior Bianca Ray.
Ledbetter's passion was evident not only in his writing, but in the way he presented it to the audience.
"A reading gives the poet the chance to hear him or herself doing it," said Ledbetter.  "Writing is a solitary thing. Reading aloud is performance."
Ledbetter said that although our world is changing, poetry continues to stay the same because it holds many pieces of history together.
"Poetry now is the same in all ages. Audiences change, people change, but poetry lives because it somehow carries the history of people from age to age," said Ledbetter.
"Wars, loves, deaths, politics, great ships and battles and babies and puppy dogs and everything we love, hate, need or lust after – it's in poetry."
When Ledbetter was teaching full time, he hosted over 300 poetry readings.  He discovered that there was great interest at CLU in reading and listening to poetry.
"I found my niche here, a place where I could plant ideas and watch them grow. Students reading, reciting, listening intently, thinking. What more could I ask of a culture?" said Ledbetter.
CLU is greatly involved in the art of poetry and continues to grow by giving students opportunities to experience art and express their talents.
On Nov. 8, CLU hosted another poetry reading by award-winning poet Peter Covino, who read from his newest collection.
Students at CLU can express their ideas in poetry and present them at events through the Poetry Slam Club.  Students join the club to express themselves in a creative manner and present their work to people who are interested.
"Poetry helps me learn so much about people because everyone gets so creative in telling their life stories in rhymes and rhythms," said junior Patricia Lee, co-president of Poetry Slam.  "We put words together in a way where they're lyrical and powerful in content and in value."
Poetry Slam is open to anyone, whether they write poetry or not.
"Oftentimes poetry performances can be very inspiring," said Lee.  "I highly encourage everyone to attend an event even if they're not a performer. The environment is very welcoming as well."
Lizzie Lopez
Staff  Writer
Published Nov. 14, 2012