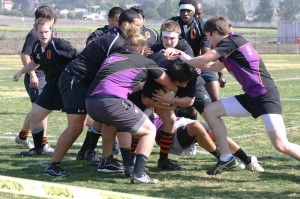 Rugby is a ruthless sport, to put it lightly. It's a game that's been played around the world for decades and is starting to make its mark in the U.S.  The Cal Lutheran Knights represent the sport well, dominating virtually every team that crosses their path.
The Knights pride themselves on their comradery and implementing selfless play to be victorious. It is a sport based on teamwork and chemistry. Respect, enjoyment, discipline and sportsmanship are mandatory mottos to follow to have the honor of wearing a CLU Knights rugby uniform.
"My expectations are very high. We went undefeated last year and our goal is to win league and make it back to that state final again for another shot at nationals," said junior vice captain Andrew Yamakawa.
Head coach Steve Stone will have an experienced group of players for the upcoming season. Stone, a former USA Rugby coach, joined the Knights in 2009 and settled nicely into the program.
"[Coach Stone] really puts in a lot of time and effort teaching us the basics and making sure we stay on task and do our part outside practice to make things easier for us to learn," said Yamakawa.
The Knights look to continue their dominance in the Southern California Rugby Football Union (SCRFU) play with one goal in mind: A national title.
"The team chemistry and experience we have out there now, we may not be as big as we were last year but we can play at a much faster pace which makes us the team to beat," said Yamakawa.
It's a goal even newcomers have taken note of.
"From what I've seen, we've got a pretty good group," said freshman member Jason Ricci.  "We have a lot of talent and a lot of size compared to other years.  Our potential is really high and we played really well in our preseason games.  I think we have a shot at it."
During the California Lutheran University Knights 2012 campaign, the ruthless squad plowed through almost every opponent, winning in every contest. With a dominant record of 15-1-1, the Knights completed their successful season atop the SCRFU standings.
They won both the SCRFU College Division III and Southern California National Small College Rugby Organization championship cups.
The Knights fairytale sadly ended at the State Championship match. Despite the outcome, the Knights were proud of their effort in competing at a high level and being successful.
"Our journey may have ended at the state championship, but the experience and that competitive edge will never go away," said Yamakawa. "We look forward to playing another great season this year and possibly going even further."
During the course of the season, the CLU Knights beat familiar collegiate conference opponents including Concordia, Pacifica and Whittier.
The Knights displayed offensive prowess the entire season, scoring 556 points in 17 games. The squad relied heavily on last year's leading scorer Michael Zubach, who led the Knights with 158 total points.
Derek Martinez and Nick Sabatella were also a huge part of the offensive arsenal.
Both combined for 95 points throughout the season. The knights earned a 67 percent conversion average while only recording 12 penalties with help from Eric Broadfoot and Martinez.
Nicho DellaValle
Staff Writer
Published Nov. 28, 2012