Alumnus takes a former class project to a new level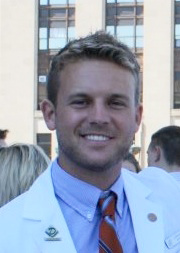 Many people sign up to donate bone marrow and walk away thinking that they won't be chosen.
However, that was not the case for CLU alumnus John Mussatto, who has recently been contacted to be a match for a patient in need.
Mussatto graduated from California Lutheran University in May of last year and is now enrolled in medical school at Kansas University.
Little did he know that because of a class project here at CLU, he would be going through the process of determining if he will be a patient's donor.
During his time at CLU, Mussatto was enrolled in professor Chad Barber's immunology class, and through that course, he participated in a project on bone marrow transplants.
The program called Be the Match presented the facts about bone marrow transplants, who can help and how transplants can help. Be The Match was on campus and was open for sign ups for potential bone marrow donors.
Barber said that when students take a biology class they automatically assume they are just learning the facts and details of biology.
However, Be The Match members are responsible for getting the message out to the public about how important bone marrow transplants are and how people can contribute.
"The Be The Match Project instills a sense of responsibility," said Barber.  "I think that's what students enjoyed the most out of the project."
When he was called, Mussatto was asked to reply back if he was still interested in being a donor for the transplant. He responded with a "yes."
After confirming participation, there are still many tests that need to take place to make sure the participant is suitable for the transplant.
"It's a long process.  The odds of you even getting called are pretty low," said Mussatto.
The chance of finding two people from completely different areas who are a match is extremely slim.  This is why it is highly encouraged for many people to sign up for the national registry. All it takes is a cheek swab.
Mussatto is not the only one who has been contacted to be a match. CLU business professor Paul Witman followed through with a bone marrow transplant in 2006 to help out a cancer patient.
Witman made the initial contact with the bone marrow registry in 1997 and was not contacted until 2006.
During the gap between his registry and the time he was contacted, he said that he had not thought about it much.
After following through with the surgery, Witman felt it changed his life forever.
"I've gained a greater respect for the fragility of life," said Witman.  "Once you make the decision to be a donor, the patient goes through a process of killing off their bone marrow. If you change your mind, they're done.  It's something you really need to be sure about."
He never had any contact with the patient that he was helping. The registry does not share information with either party.  Witman had no idea even what country the patient was from.
"It's a simple issue of patient privacy," said Witman.  "When you're sharing body parts, that's a pretty emotional and engaging process."
Mussatto is currently going through the process of being chosen from amongst other possible matches. He will be notified anytime within a few weeks to a couple of months.
Mussatto is extremely glad he signed up with Be The Match through his class project. He said it is a wonderful feeling to have the possibility of helping someone out.
Mussatto's involvement in the bone marrow donation process sets an example to the greater CLU community.
It shows how a seemingly simple class project can truly make a difference in others' lives.
Lizzie Lopez
Staff Writer
Published Nov. 28, 2012