Kingsmen open up SCIAC with a win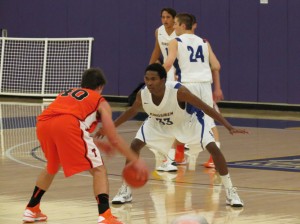 The CLU men's basketball team came out strong in their first SCIAC game of the season. Taking on the CalTech Beavers, the Kingsmen opened up in the first half with a 17-point lead.
The Kingsmen made sure to keep that lead all through the second half and finished on top, to secure the first conference win of the season, 71-51.
"A conference game is a conference game. They all count as one win," said head coach Rich Rider. "We had good energy and we executed our game plan pretty well."
The Kingsmen had five non-conference games leading up to SCIAC play and came up with two wins out of five.
"We are getting better and have a lot of young guys," said Rider.  "We've had 10 days of good progress."
The Kingsmen seem to be learning from their mistakes, putting together fast breaks, creating steals and finding the open man for the uncontested shot.
The bench stepped up for the Kingsmen and scored 49 of the 71 points put up on Saturday evening.
"We wanted to make sure that we stayed up in the game, we've let teams back in and it's ended on the wrong side for us. We are making sure to not let that happen again," said junior Michael Palmer, who led the team with 16 points.
"It's all about the buckets. It always has been and always will be all about the buckets," said Palmer.
Guy Lynott and Corey Quintana have been key freshmen additions to the team. Lynott is now off the injury list.
"Missing practice and the games really sucked," said Lynott.  "We still have the same chemistry on the court though, which makes things work well for us."
Quintana put together 13 points, nine of them in the first half. Lynott and starting senior Jayvaughn Nettles both scored nine points.
Despite not scoring any points in the game on Saturday, Stephen Davis left an imprint on the game.  Davis was dishing out more assists than Santa gives presents on Christmas.  He recorded 10 assists, which is a team-high for the season.
The game got a little scrappy in the second half and the Beavers got into trouble early on, racking up six fouls. The Kingsmen got the foul bonus and had opportunities for a lot of free throws.  Free throws are the Kingsmen kryptonite this season.  They shot just over 62 percent in the game on Saturday.
"It's all mental. It's mental more than anything. We just have to stay mentally tough and they will start going in," said Rider.
They said they need to play a little out of their own comfort zones and make quick but smart decisions. The team is heading off to Pomona to play their next game on Wednesday, Dec. 5. They hope to keep going in the right direction with a victory.
Nicholas Ballou
Staff Writer
Published Dec. 5, 2012