CLU and FIRST do the robot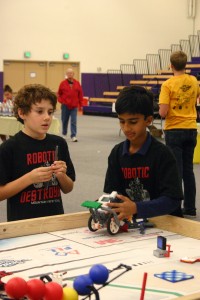 This past Sunday marked the third annual FIRST Lego League Robotics Qualifying tournament held at CLU.
From 10 a.m. to 4 p.m., 28 teams from across Southern California competed in three rounds of competition and judging in the Gilbert Sports and Fitness Center.
Students were required to present their robots to a panel of judges. They were asked questions about their design, and explained how they built their machines and programmed them.
Next they presented their team's research on this year's topic: Senior Solutions. According to the FIRST website, students were asked to focus on what they felt could help "improve the quality of life for seniors by helping them continue to be independent, engaged and connected in their communities."
Students were also observed in action and judged based on FIRST's core values of enthusiasm, spirit, partnership, respect for teammates and others and gracious professionalism.
Finally, students competed against other students in a number of games and used their robots to complete tasks. The games lasted two and half minutes and were monitored by referees.
In previous games, students were given a score out of 400, but after the games in 2007 and 2008 many students earned perfect scores. The judges wanted to avoid perfect scores each year so they devised a harder test.
Chris Nemets, head referee and announcer, said some tasks are next to impossible to complete.
"They're not judged on if they can complete the game. It creates levels of competition and shows where their robot stands," said Nemets.
Before the competition, the teams used Lego's MindStorms kit and were given the layout of the games. The teams had three months to program and practice with the robots. Each team could build their robot to their specifications as long as it only used the parts made available in the kit.
"We've been working for months," said Esmeralda Minares, a student from the Center for Advanced Learning in Los Angeles. "We named our robot Meteoroid. I think we're going to win."
The participants ranged in age from nine to 14, with about 120 students total in the competition. Students travelled from Santa Barbara, San Louis Obispo, Ventura and Los Angeles counties.
"My favorite part is that we got to use the robots we worked on to have fun," said Jacqueline Linares, a member of Minares' team. She said this project helped her realize that she wants to become a math teacher.
Along with the students, there were around 100 coaches and a large audience of parents and fans showing their support.
"I really liked the competition. I love building Legos at home and it was really cool seeing what these kids can make with robot Legos," said spectator Hudson Gray, a first grader from Wildwood Elementary.
For Inspiration and Recognition of Science and Technology started it's first tournament with only 28 teams.
Now there are more than 250,000 competing students in America alone and it reaches more than 60 countries.
The program's mission is to get children involved with their school's science programs and have them develop the skills to become leaders in technology and science.
"Nationally, children in grades four through eight stop caring about science. It's an epidemic," said Bob Rumer, an instructor of physics and bioengineering at CLU. "The goal is to give them a piece of science and have them realize they can do something fun with it."
Rumer hopes that CLU will become a resource for robotics in Ventura County, but expects it to take five to 10 years because everything is still in the beginning stages.
"We want to help network and show others how to implement these programs across districts," said Rumer.
CLU does offer bioengineering classes that focus on robotics, but Rumer ultimately hopes to have liberal studies students involved.
He believes students who want to become teachers will benefit from knowing the sciences and in turn become better teachers because of it.
Britney Zamora
Staff Writer
Published Dec. 5, 2012