CLU remembers those lost to the AIDS epidemic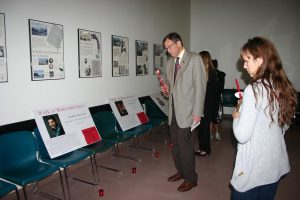 The Center for Equality and Justice, Wellness Programs, Campus Ministry and the HIV/AIDS Coalition of Ventura County all came together to present World AIDS Day on Thursday, Nov. 29.
The event was held in the Swenson building.  Informational tables from Wellness Programs, Planned Parenthood and Ventura County Public Health lined the lobby area of Swenson.  Inside the classroom, a panel of three HIV-positive individuals gave their testimonies and answered questions.
The speakers from the panel came from an organization called Positively Speaking.   This association   trains people who are HIV positive to speak in  small groups in a classroom setting.
After the panel, attendees watched a keynote presentation by Craig Webb, HIV/AIDS program administrator for Ventura County Public Health.   Following the presentation, a candlelight vigil was held in Overton Hall.
Dr. Adina Nack, director of the Center for Equality and Justice, said she hopes students and other attendees from the campus and community gained a better understanding of the "medical, social and psychological realities of HIV/AIDS."
"Every year I hear from students who are inspired by the World AIDS Day events," said Nack.  "To get tested, to educate their friends and family, to modify their risky behaviors and to become better advocates for HIV/AIDS research, health care and education."
Dichele Harris is one student who felt inspired by World AIDS Day.
"I've always been pretty precautious, but when it comes to my friends, I'm going to be more vocal about them using protection.  I wish I had brought them with me," said Harris.
Harris said she found it surprising that the panelists became so successful in their careers and their advocacy after being diagnosed with HIV.
"They spun it around completely," said Harris. "They turned a negative into a positive."
Senior Nina Kuzniak, an intern with Wellness Programs, plans events that focus on educating students about sexual responsibility. Kuzniak, along with Nack and Wellness Programs Senior Coordinator Amanda Namba, started planning World AIDS Day early in the summer.
"World AIDS Day is a great chance to reflect on the effects of the AIDS epidemic and to empower our students to be knowledgeable advocates," said Kuzniak.
According to Kuzniak, one of the most important results of having World AIDS Day on campus is breaking the stigma  of people who are HIV positive.
"AIDS is so often depicted as a disease that affects the gay, male population or the poverty-stricken in Africa," said Kuzniak.  "Through our information and the Positively Speaking panel, we gave a new face to people living with HIV/AIDS."
Nack said World AIDS Day gives support to those who are infected and affected by HIV/AIDS.
"I hear from students and community members who are living with HIV/AIDS or have lost loved ones to the epidemic," said Nack. "They've told me that they feel valued and supported by seeing students and community members come together for these events."
Kaitlyn Guilbeaux
Staff Writer
Published Dec. 5, 2012