Senior Defensive Back Zion Brown, the unspoken leader for Kingsmen Football
With three completed football seasons under his belt, senior defensive back Zion Brown starts his fourth year as a Kingsmen strong with 11 solo tackles and one interception.
Zion Brown grew up in different parts of southern California, but once he settled down in Victorville, California his love for football was born.
"I was in the fourth grade and my step dad wanted to sign me up because I used to always come back from school and say 'I'm super fast, I'm sonic and I beat everyone in races' so I should play in a sport and that's just how it kinda started," Zion Brown said. 
He understood his talents and put them to use in football. As he grew up, the athletes he looked up to were limited. 
"I used to play running back so I wanted to be like Eric Dickerson. Now I don't have anyone I want to be like," Zion Brown said.
This past week, Zion Brown was awarded the Southern California Intercollegiate Athletic Conference (SCIAC) Athlete of the Week and named Football Specialist of the Week. He earned this title after making a remarkable play in which he recovered a punt to score a 42-yard touchdown, breaking a tied game versus Puget Sound on Saturday, Sept. 18.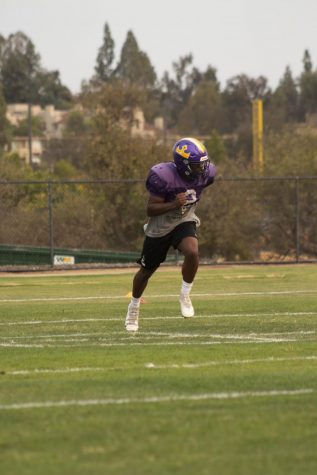 "I think it's cool, but I personally don't mind. I feel like I should always just do good every week no matter what," Zion Brown said. "I don't like saying humble, but I'm humble, I guess because to me it's expected. I expect myself to do good every week."
Head Coach Anthony Lugo emphasized the importance of Zion Brown's work ethic and his improvement throughout the season.
"Zion's a senior that came in as a freshman, from day one was a starter and has worked year-in and year-out to get better and so he comes in everyday trying to get better. He's a special person and special part of who we are with Kingsmen football," Lugo said.
Although Zion Brown does not hold a team captain position for the Kingsmen, Lugo and Recruiting Coordinator and Secondary Coach Richard Brown, both acknowledged Brown's efforts in playing a leadership role for the team.
"My first impression is he is the guy that can be a leader. He's a guy that may not be boisterous, but he leads by example," Richard Brown said. "Just because you're not a vocal leader, you still can be that presence that everybody still follows because you see somebody doing great things." 
Zion Brown might be a quiet leader on and off the field, but his mentality during games speaks volumes said Richard Brown. Teammate defensive back Gavin Scott described Zion Brown's on-the-field persona as an overwhelming presence. 
"He's going to make his presence known and is going to hit you hard and he's going to make plays," Scott said.  
This performance is the baseline for Zion Brown. He expressed his goals for the remainder of the season and shared his optimism for the team.  
"As I'm currently second on the team for tackles, I kind of want to stay there and get more interceptions," Zion Brown said. "Our team goal is to win conference and go to the playoffs, and I think we can do that this year."