Cal Lutheran Regals Soccer scores fourth win this season, defeats Whittier Poets
The California Lutheran University's Regals soccer team won 3-0 by defeating the Whittier Poets in the third conference game played on Sept. 22, 2021.
Head Coach Frank Marino said he was happy about the team's performance. This win marks their fourth straight victory of the season and has improved their overall record to 5-2.
"I think overall I am happy with the performance. I thought we had some good chances early in the game that we should have put away that would have given us a little bit more breathing room in the game," Marino said.
Senior goalkeeper Gabby Flores did not allow the Poets to score all game.
"I think it was a group effort. We played really well collectively. We started a little small in the beginning but we picked it up towards the end and got that goal and assist to each other so that we are able to finish it. So it was perfect," Flores said.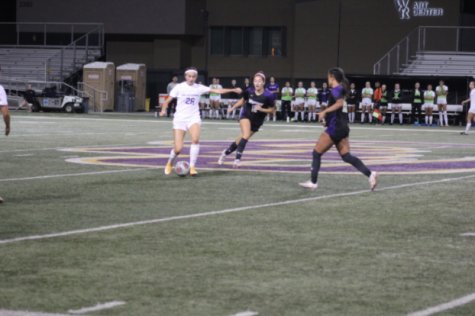 Senior defender Trinity Martinez contributed the first goal of the game for the Regals.
"I thought we made the game a little harder than it needed to be because we missed a couple easy chances that kind of kept the game. It feels so good to start it off. It kind of raised the energy up," Martinez said.
After halftime, the Poets were controlling the time of possession in the first few minutes but Flores kept the Poets in check.
"Our keeper Gabby Flores had to make a good save to keep us in the game but I think we have started to get our rhythm and find how we can play. I think we can continue to get better but I think we are starting to find our stride a little bit. We are heading in the right direction. We just got to keep building the last couple of games," Martinez said.
Flores also weighed in on the team's victory.
"It feels great and I am feeling we are having that good energy and to keep that energy going throughout the conference is what we are going to have to really work on. We have to be consistent all the way through conference," Flores said.
Coach Marino is the all-time winningest head coach in Cal Lutheran soccer history. This accomplishment means a lot to him.
"It means a lot. It means that I have been very fortunate to get a lot of good players and work with them every day in this program for a long time," Marino said.
The goal this season for the Regals is to see team success continue till the playoffs.
"Our goal as a team this season is to be consistent exactly like what I said. We need to make sure we don't slip down to anybody's level of play. We have to play on our own level and make sure we set the tone off right away. Give us a chance to play in the playoffs and see what we can do in the playoffs," Martinez said.