Regals Volleyball splits weekend games against Occidental, Claremont-Mudd-Scripps
The California Lutheran University Regals volleyball team won its second game in a row in the Southern California Intercollegiate Athletic Conference on Friday, Sept. 24, against Occidental College.
The team is on a winning streak after defeating University of Redlands last Tuesday, making their overall record on the season 4-8. 
In the first set, the Regals maintained ball control with senior libero Julia Trento ending the set with an ace serve.  
"I thought our passing and serving was a lot better, we have been working on that and our defensive was good," Head Coach Kellee Roesel said.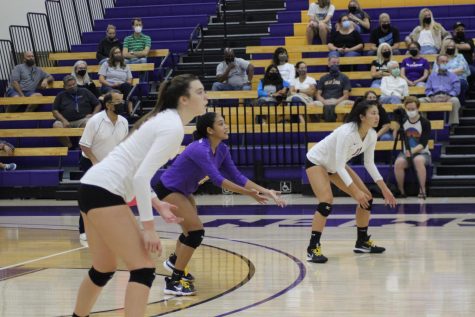 The Regals accumulated 46 digs with sophomore libero Isabella Wade having 19 of them. 
Keeping up strong defense, Cal Lutheran dominated the first set 25-13.  
With executing 11 total kill attacks during the match, senior middle hitter Maci Haddad said they did very well as a team. 
"I am happy with myself and my hitting and blocking. I wanted to get a few blocks per set and feel I accomplished my goal," Haddad said.
With major back and forth rallies between the Occidental Tigers, the Regals were able to come out conquering the second set 25-18 and the third set 25-19. 
During the match, the Regals had a total of 38 kills and 22 block assists from the front row.
These last two games in the SCIAC have given the team increased self-assurance said junior middle hitter Christina Williams.
"I thought this game was a big confidence boost and will help lead us into the conference with energy to do well," Williams said. 
The team is working in the right direction to kick the season off Roesel said. 
"I am very impressed by their grit and think they are starting to do the things we want them to do and are progressing," Roesel said. 
With back-to-back wins, the Regals felt they had good energy and communication on the court. 
"We didn't play down to anyone's level," Haddad said.
The Regals energy was shown through their 37 aces made during the match.
"I think overall, we all communicated very well and just put the ball away," Williams said.
The Regals ended the weekend with a loss in straight sets against Claremont-Mudd-Scripps on Saturday, Sept. 25. 
Although they had 32 kills, the team concluded with 18-25 in the first set, a close 22-25 in the second set and 13-25 in the final set.  
As a result, this leads the Regals to have a 4-9 record and be 2-1 in the SCIAC.