Cal Lutheran Cheer and Dance teams return to support athletics in-person
As sports and clubs were impacted by the pandemic, both California Lutheran University's cheer team and dance team were not spared by COVID-19's impact. Both teams lost the year to the stay-at-home order during 2020 and the spring of 2021. This lost year called for adaptation to allow for practices, tryouts and maintaining the community within each team during the pandemic.
"So it [COVID-19] just made it a dead year for us, but I wouldn't say it affected our team a lot because we came back really strong," said junior Andrea Villaseñor, one of the cheerleading team's outreach leaders. 
Senior Mariah Zermeno, the dance team's social media officer, shared similar sentiments during a Zoom interview.
"Our captains did a really good job with keeping our community like alive and our team alive," Zermeno said. "I think actually COVID did help us in that aspect of becoming more bonded as a team."
When tryouts approached, both of these teams asked for video submissions and were open to everyone, regardless of experience.
"Our team is co-ed too. So if anyone wants to try out, they definitely can. I think people think that cheer is only for girls, when it is definitely not," said junior Emma Sweeney, one of the cheer team's social media leaders, in a Zoom interview.
Zermeno said that for the dance team, there was an opportunity for in-person tryouts with the requirement that those trying out wore masks. She also said that practices are open for people who just want to dance or even join in on the practice.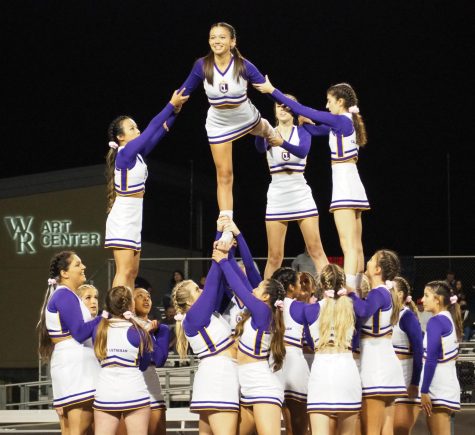 With the ability to cheer at sports games again, Sweeney said that she hopes the cheerleading team can attend at least three or four games in spring next year. 
"We are going to make our appearance just to support other teams and not just think that cheer is only for football because we really want to be there for every sport," Sweeney said. 
Cheerleading Coach Rica Distor said in an email interview that she too hopes the cheerleading team can be part of all sports at Cal Lutheran and possibly partake in competitions in the future. 
Even though the dance team is able to perform again, President of the dance team Danika Larsen said in a Zoom interview that there has been growing pains because of their improvement as a team and the need for more resources. 
"We are kind of running into this roadblock where, for example, we want to have our showcase in November like we usually do, but because we are not under a specific department or athletics, we don't have priority [of] Preus-Brandt Forum to rent," Larsen said.
She also said that during the pandemic, when there was a possibility of practicing outside, the dance team was unable to do this because they were considered a club and not as part of the athletics department. 
Both the dance team and the cheerleading squad were present this past Saturday at Cal Lutheran's football game against the University of La Verne. Both groups are also planning to perform during the Homecoming football game on Saturday, Oct. 23. 
"As a dance team, we are all really happy and grateful to be a part of campus and be part of campus events and perform," Larsen said.