BGLAD hosts the best-looking Bingo around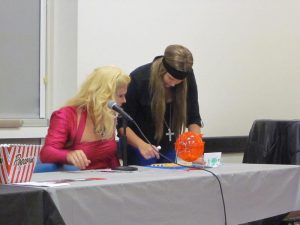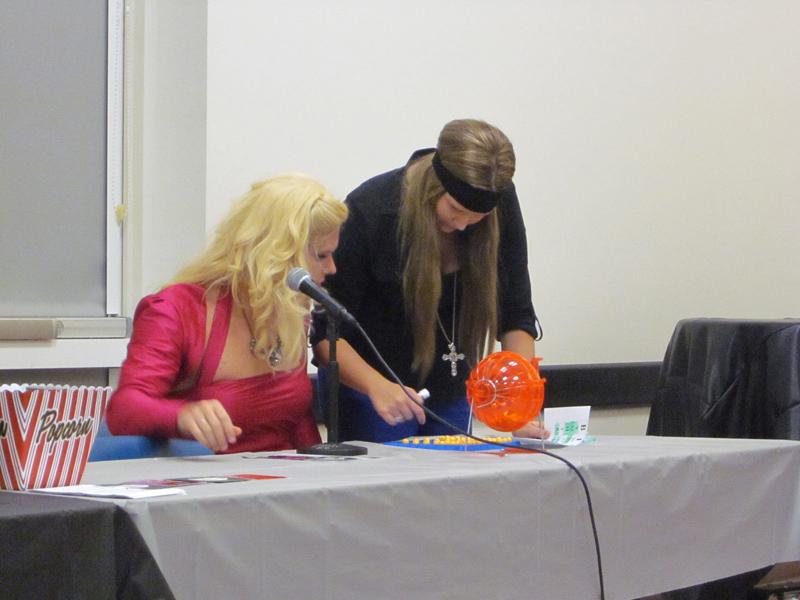 As people strolled into Overton Hall last Wednesday night, their bingo markers in hand, they filled the round tables in preparation for the ping-pong balls to be called.  They were there to support the BGLAD club's second annual Drag Bingo.
This year's host and active club member Graham Jameson kept the 75 plus attendees laughing and focused on their cards.
"Drag Bingo is a social event that we throw so as to get everyone to experience some of the culture of the LGBTQIA community while playing a traditional game of bingo," said BGLAD Vice President Taylor Rofinot.  "We offer prizes for the big winners of the night that range from gift cards to a grand prize.  It is our hope that we can give students a chance to come together and have one last social event before they all begin to crack down and focus on finals."
The BGLAD club is one of  nearly 90 clubs on the CLU campus.  BGLAD is an acronym for bisexuals, gays, lesbians and allies for diversity. The club works to create a safe environment for students on campus while promoting equality and visibility of universal and campus-wide issues.
Club member and sophomore Miguel Duran hopes that Drag Bingo will help the club get their message to others on the Cal Lu campus.
"Our goal as a club is to educate people in becoming more tolerant with topics such as drag queens and queens, since these types of behaviors are usually more attributed to the LGBT community," said Duran. "If exposure to things like this can help a person become more accepting of such 'queer' behavior, we have succeeded as a club."
The BGLAD club also holds other annual events including the Gender Bender Ball and the Drag Show. These events are all trying to push past the norm and have people experience something new and different with the hope that they may become more accepting of the LGBTQIA community.
Senior Kevin Mason, BGLAD president, hopes that Drag Bingo becomes an annual event at CLU. "This is our second year doing the event. We created it last semester when we realized there was a dry spell where our club wasn't doing any events."
The club hoped that using a simple game of bingo would allow people to socialize and take a break from the finals that are looming at the end of the semester.
"Our hopes for this event are that people come, socialize, communicate and really just let loose and have fun," said Mason.  "Finals are coming up and this is a great way for people to come take a break and de-stress from the impending multitude of tests we're all preparing for."
One of the major challenges for the BGLAD club was making sure they publicized the event properly.
"Seeing as how cross dressing may be frowned upon by many people, it is a challenge to publicize and get the word out for an event such as this because we don't want to offend potential guests," said Duran.
Using traditional club publicity at CLU, the club put up posters around campus in high traffic areas. They also took to social media to help spread the word.
"We use Facebook events so as to invite people around campus the officers may be friends with, so that in this way they are aware of the event even if they have not seen the posters," said Duran. "Word of mouth is also used, which also applies to Facebook in that people who are invited to the event can tell their friends to come."
Matt O'Brien
Staff Writer
Published Dec. 12, 2012