The next study abroad students prepare for take off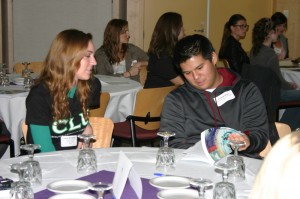 The opportunity to spend a semester in a different country is something that many students dream of.
Students at CLU are given one-on-one assistance in achieving their dreams of studying abroad by the Study Abroad Center.
Studying abroad takes a lot of work. Paperwork, visas and course planning are all precursors to studying abroad.
Most study abroad planning is done by the end of the semester, so a pre-departure dinner was held to bring all of the participating students together to prepare them for the journey they are about to embark on.
The pre-departure meeting was held in the Lundring Events Center on Dec. 4, from 5 to 7 p.m. Food was provided along with a raffle. Students were separated into tables according to the program and country they will be traveling to.
CLU students are traveling to five different continents and 16 different countries this year.
"I'm really looking forward to meeting a bunch of new people at Semester at Sea," said junior Andrew Quan.  "The fact that I will be visiting twelve countries is absolutely amazing and I will take advantage of every opportunity."
Quan is especially excited to visit China and get in touch with his roots.
"I want to be able to learn some of the language and be able to appreciate and express my own culture more," said Quan.  "This trip means a lot to me because it is a way for me to become more open minded and educated on the rest of the world."
In addition to meeting peers who are also studying abroad, there were presentations on how to keep safe while abroad, cope with home-sickness and stay on top of school work.
Studying abroad often changes students' perspectives and affects what they want to do with the rest of their lives.  Whether it is going to a developed city or an underdeveloped country, each experience affects every individual differently.
Junior Kiera Murphy, presently a global adviser, studied abroad in India during the spring semester.  She said going to India made her more thankful for what she has in the United States.
"It really made me realize what I want to do with the rest of my life and how I view the world," said Murphy.  "I was a happier person coming back to the United States."
After returning, students can become mentors or global advisers.
"I love being able to talk to prospective students that want to go abroad," said Murphy.  "It's wonderful to help them make their dreams a reality."
The Study Abroad Center offers an extensive amount of help and references for prospective students.
This year there are two new travel seminars available: Cuba and Thailand.
"I love working with students to help them with their decision making to find programs that are available to them," said Stephanie Shaker-Sullivan, assistant director of Study Abroad.  "The best part is helping them realize that it is a real possibility."
Sullivan also mentioned she loves seeing how much students have changed and how much they have learned from their cultural experiences.
Lizzie Lopez
Staff Writer
Published Dec. 12, 2012