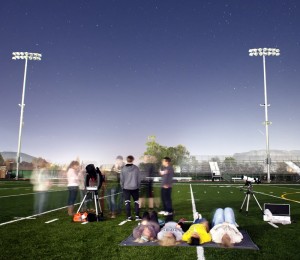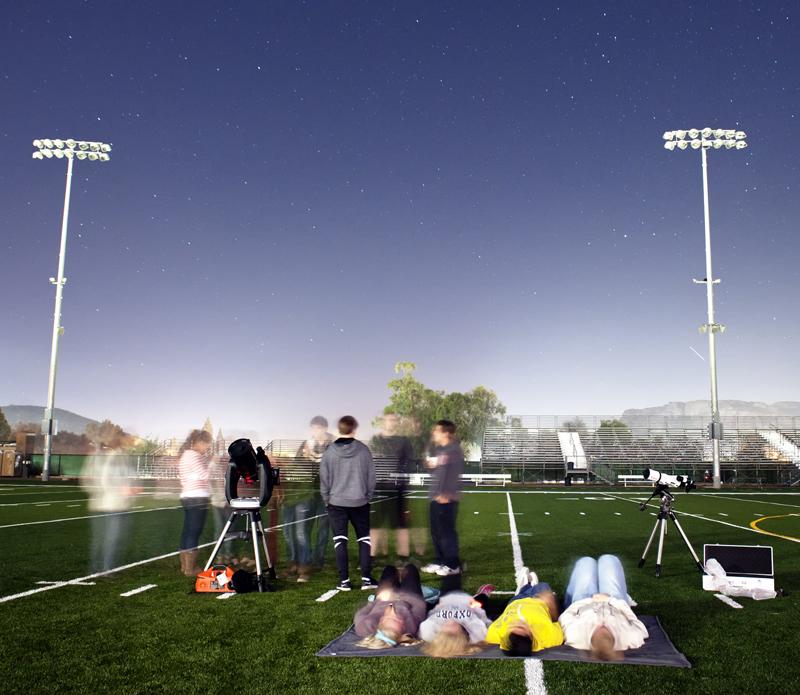 CLU held its third annual Astronomical Adventure Thursday, Dec. 16, at William Rolland Stadium during which students were shown the wonders of the night sky.
The event was a collaborative effort between resident assistants Kirsten Larson and Steven Boggess, the Physics Club and Michael Shaw, CLU professor of physics and bioengineering, who also teaches Physics 100, Introduction to Astronomy.
"I have become aware over the years of the great interest that Cal Lutheran students have in astronomy and how exciting it is to discover it for the first time by yourself—the incredible beauty of the night sky," said Shaw.
According to Shaw, in 2009, Introduction to Astronomy students Larson, Liz Glick, Sylvia Montano and Maryalice Marston decided that they wanted to hold an event for students not taking his course.
These four students helped host the first annual Astronomical Adventure at Mt. Clef Stadium. Parents who got involved brought a chocolate fountain and five different musicians. Six faculty members to contributed to the initial event.
About 50 students attended the event.
Last year the Astronomical Adventure had about 100 people in attendance.
It took place at the flagpole, though the night sky was cloudy. Afterwards, attendees hiked up to the cross to view the night sky more closely.
When an event centers around the temperamental night sky, scheduling conflicts can often occur.
This year's Astronomical Adventure date was rescheduled a few times due to climate and scheduling issues.
Boggess and Larson coordinated with Shaw to set a date during a time when the moon was not out. When the moon is out, its light makes it difficult to see the stars around it.
Fortunately, this year the skies were clear. About 25 people attended the event.
Shaw gave a short astronomy presentation on the 50-yard line of William Rolland Stadium. Students gathered in a circle around him while he used a green laser pointer to point out various star clusters.
Shaw called upon volunteers for demonstrations of the earth's rotation and signs of the zodiac.
"I love how everybody got really into the concepts and how people interacted with Dr. Shaw," said sophomore Carlos Moran. "I will definitely attend next year and the year after that and the year after that."
Before and after Shaw's demonstration, attendees could  see various stars and galaxies through two telescopes.
"I enjoyed putting on this event," said Boggess, a junior and a resident assistant at Trinity Hall. "It's one of my favorite programs. It's perfect for people with a love of learning and an interest in the universe."
In the future, Boggess would love to see this event continue to be held at William Rolland Stadium. His goal is to have more telescopes, a bigger following, more people involved and interested, and music as well. Boggess wants this event to eventually turn into an all-night event where students can camp out and sleep under the stars at the stadium.
"My hope is that it will always be open to anyone interested and that people would leave feeling excited about astronomy, having learned a thing or two, and will keep them interested in the years to come," said Shaw.
Elessandria Smith
Staff Writer
Published Dec. 12, 2012